The Virginia City Hill Climb
June 18/19, 2000
"Conquering the Last Frontier"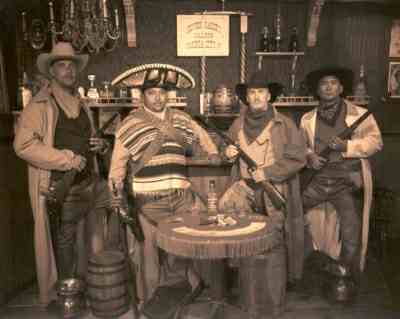 NSX Modified, 1-800-Phoneguys, and Pulp Racing ready for the shootout at The Hill Climb
(aka as "The Good, The Bad, The Ugly, and Tuco") (click here for bigger)
(Disclaimer: This is how I remember the event. If there are any wrong facts in here, let me know. This is an "Unofficial Virginia City Hill Climb site". If your browser show broken links, hit the "refresh button" on your browser. You need to buy a faster internet connection!)

Well, it is that time of the year again to go race at one of the few remaining hill climb races in the United States. This event is one of the highlights of our racing schedule. The Virginia City Hill Climb is an event where drivers try to get the fastest time from the intersection of the 341/342 up to Virginia City via the 5.2 mile truck route. It is a paved road, and the local police block it off so we can use both side of the road to rip up the hill. Most of the turns are marked 25-35 mph, and cars are going through these turns at 75-110 mph, with very few guard rails.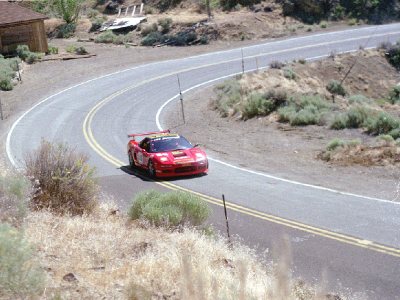 Accelerating out of one of the many 25 mph turns - Photo by Joe Rae
(Click here for bigger)
If you happen to screw up a turn, you either hit the mountain, or you tumble anywhere from 20 to 400 feet off the cliff. Sooner or later insurance regulations, city officials, local residents, or law enforcement officials will probably shut down this hill climb race permanently, and all this fun will just be a distant memory as we grow old. That is why this story is called, "Conquering the Last Frontier".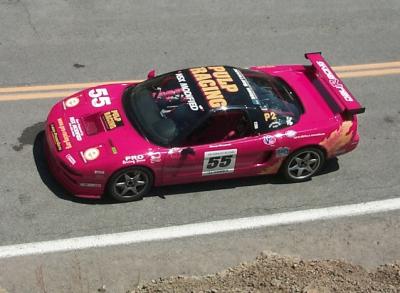 The NSX looks like a Matchbox Car waiting in line for a run up the Hill
(Click here for bigger)
This event is run about twice a year, with the June Hill Climb sponsored by Bill Pound, Frank Beddor, and The Quattro Club. The September Hill Climb is sponsored by the Ferrari Club and the Shelby Club. For purposes of this article, we are focusing on the June Hill Climb, as the Ferrari Club and the Shelby Club won't let in any NSXs or Porsches to their event. Wayne and I don't bother taking the F355's to the September event, because quite frankly, my NSX and Wayne's 944 Turbo will destroy the lap times of an F355. You get anywhere from 10-20 runs up the hill over the course of a weekend. The Hill Climb is a very expensive event to run, as their are lots of logistics, permits, corner workers, etc, in order to pull off this event. For many years, Frank Beddor has subsidized any losses for this event, and he continues to "sponsor" the event so we can continue to have fun racing up the hill. Without Frank's support, this event would not have continued on for its 30th year.
.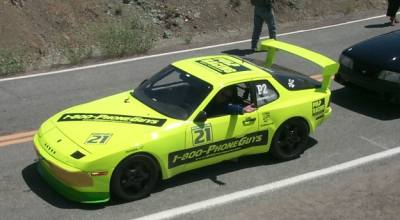 Wayne's car in line for the Hill Climb
(Click here for bigger pic)
The past four years I had to suffer with Wayne bragging how he kicked my ass at the Hill Climb. The two times that Jeff went to the Hill Climb, he also kicked my ass. Granted, I have excuses for most of those years, but let's look at the facts:
June 1994 - Jeff 3:48.1, Doug 4:09.1 (Note: My clutch blew up after one run)
June 1995 - Doug 3:53.1, Wayne 4:08.0 (Note: Wayne just started racing)
June 1996 - Wayne 3:47.8, Doug 3:52.3 (Note: Wayne's car is turbocharged)
June 1997 - Wayne 3:43.9, Doug 3:54.5 (Note: Turbos do good at the Hill)
June 1998 - Wayne 3:38.1, Doug 3:38.9 (Comptech Supercharger installed)
June 1999 - Wayne 3:29.5, Jeff 3:31.1, Doug 3:32.6 (My suspension was setup wrong all day Sat.)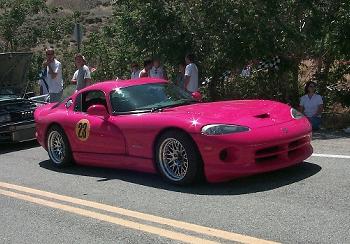 Viper ready to to battle
(Click here for bigger pic)
This year, I wanted to make sure that things would be different. I needed to ensure that the engine was delivering max power, I needed to make sure that the suspension was dialed in BEFORE we get to the Hill Climb (unlike last year) and I needed to make sure that I studied the video taped runs of last years Hill Climb. Normally, cars are spaced out at 30-45 second intervals as they go up the hill. Last year, Wayne and I requested that only 5 seconds be spaced out between us, and I chased Wayne's car up the hill and we got our fastest times, as posted above. We tried this on one more run, and I was gaining on Wayne towards the end, but he ended up crashing into the mountain on the second to the last turn, thus screwing up his run and my run. I looked at this video tape with a stopwatch, and I think I would have beaten his time of 3:29.5 on that particular run, as I was gaining on him. Wayne insists that he did not crash, he just got two wheels off and hit a rock. I say that he lost control and hit a boulder, which constitutes a crash.

Amir's F40 park next to his Ferrari trailer
(Click here for bigger pic)
This year, we started out by fixing my blown up engine that was over revved by an accidental downshift into 3rd gear at 124 mph. Larry had to replace the blown up engine that had all kinds of goodies in it like JE Pistons, Comptech heads, Comptech cam, etc, with a completely stock engine, and then we bolted the Comptech engine back on top. We tested this engine at the race track in Las Vegas, and it seemed to run okay. I called Comptech up, and told them to send me the 9 lb pulley for the supercharger. I was running about 7 lbs of boost with the regular pulley, and I wanted to go higher. The smaller the pulley, the faster the supercharger spins, the more boost ya get. When Comptech built the engine, they recommended that I not go to the 9 lb pulley for reliability reasons, meaning that since I beat the crap out of the car with these 2 hour enduros, etc, they thought the built engine would work best with this 7 lb pulley. Plus I break everything that I order from them. And they also felt that with the heads/cam/pistons, the 7 lb pulley would probably be optimal for HP. Since they built the IRL motor that was in the car that won the Indy 500 this year, I guess I won't argue with them.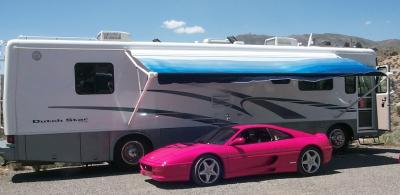 Steve's F355 parked next to a motor home with satellite dish to watch the Formula One race
(Click here for bigger pic)
Except, now we have the Hill Climb coming up. Wayne has been talking crap for 4 long years about how he kicks my ass year after year at the Hill Climb. This ain't gonna happen again. I call up Comptech, and tell them to send me the 9 lb pulley via Next Day Air. (Note: always do this. If you ship any go-fast parts via ground or 2nd day air, it never gets there on time for your event, and Raceaflais smiles and laughs at you.) I tell Comptech that I don't care if the engine might blow up, but I do care if Wayne kicks my ass again at the Hill Climb. I only need the engine to perform properly on one 3.5 minute run up the Hill. I am sure I can do that with the 9 lb pulley and not blow up the engine. Comptech sends the pulley down, and NSX Modified installs it for me. A couple of weeks earlier, I had Larry and Jim put in the fuel cell that was built by Comptech, along with the two Porsche fuel pumps that replace the stock NSX fuel pump. I bought the fuel cell about 6 months ago, but we didn't have time to get that put in yet. My gas gauge isn't functioning correctly due to the new fuel cell, so I really can't tell how much gas I have, but we can worry about that later. We decided to test out the cars at the Touring Car Club Memorial Day Weekend race at Willow Springs. It was a three day event, but we decide to go to just the Friday test day, and the Saturday Qual Race, and we blow off the final race on Sunday as it was going to be an extra hot weekend, and I wanted to spend at least part of the holiday with the wife. We were running short on time for the TCC event, so I don't get a chance to take the NSX down to get an alignment. We pack up the trailer. Then off we go to the TCC race to test the car.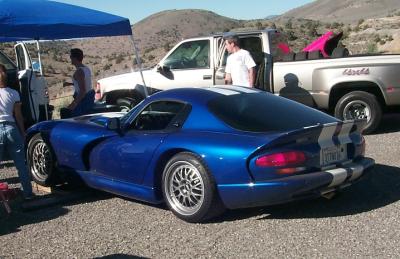 A bunch of Viper guys showed up at the Hill Climb. Where were all the NSX guys?
(Click here for bigger pic)
Memorial Day Weekend
At Willow Springs on the Friday test day, I ran a 1:31.5 as my fastest lap time in hot weather. Slower than my 129.75 best lap ever, but the handling wasn't dialed in, and the car was over steering way too much. (Note to self: ALWAYS get the car aligned before going to the race track). I also notice that when I shifted into a higher gear, the boost gauge would show 6 lbs coming from the new 9 lb pulley. Now, I ain't a mechanical genius, but 6 lbs is less than 9 lbs, and less boost = less horsepower. I ask Larry if he installed the correct pulley, and he said that he installed what Comptech sent him. Looks like Comptech sent me the wrong pulley. I curse, as this is suppose to be the event where we prep the car for the Hill Climb. The problem is that I am getting less power from the new pulley than the 7 lb pulley that was installed earlier. I drive back home Friday night, as I want to attend a funeral Saturday morning for my uncle, may he rest in peace. I also pick up the old 7 lb pulley from Larry's shop. Saturday afternoon, I drive back to Willow Springs for the qual race set to run at 4:00 p.m., and Larry throws in the 7 lb pulley. Wayne is gridded 3rd, and I am gridded 4th. We are behind an S2000 and a Mazda Touring car. Wayne ends up kicking my ass, partially because he got a good start, and partially because I was experiencing some boost leakage. As the RPMS increase, the boost slowly drops down from 6 lbs to 3 lbs. As a result, in the qual race, I run 1:33/1:34 lap times, and Wayne takes first place in the qual race by about 15 seconds over me, as I take 2nd place. Which ain't bad, but now I have to listen to Wayne about how he kicked my twice in Vegas last month (but he forgets to mention that I spun after hitting oil in the first race, and then my radiator had a leak in the 2nd race for a DNF), and how he kicked my ass in go karts last weekend (except he neglects to say that my kart was "disqualified" due to having the wrong engine head put on by KRC, so I had to run a kart that KRC uses for their training school, which was slower than lawnmower). So Wayne is figuring he has won four times in a row, and now we are coming up to his favorite event, the legendary Virginia City Hill Climb.

Ferrari 348 Challenge car
(Click here for bigger pic)
So after the Willow Springs race, the next morning I send Comptech a fax explaining the situation. Needless to say, I am pissed because the only reason we went to Willow Springs this weekend was to test the car out to make sure everything is working right, and it turns out that everything is not working right. If I ain't getting full power, and I mean full power, Wayne will win again. And then it is another 364 days that I will have to hear him say, "I kicked Doug's ass again at the Hill Climb." After five years, that will be 1820 days that I have heard him say those words.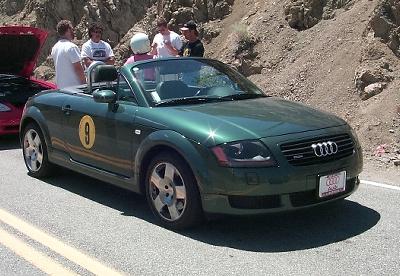 This Audi TT has 6000 miles, three autocrosses, and now one Hill Climb on its resume
(Click here for bigger picture)
The next day, I call Comptech and talk to Shad. Shad is a pretty smart guy when it comes to cars, and he calmly explains to me that more boost doesn't always equal more HP. In fact, more boost equals hotter air into the engine, hotter air = less power. So there is a balance that one has to take, meaning that there will be a law of diminishing returns sooner or later. The pulley that he sent me was a pulley that should be 9 lbs on a stock setup. If I was seeing boost bleed off the supercharger, then there is a problem elsewhere, like a leak somewhere. He also says that if I really want more power, the thing to do is pull the motor, put the old Comptech heads and cam back on the stock block, put the supercharger on, and make sure there are no leaky gaskets or hoses so I get max boost. And then if I really want to max out the power, I should do individual dyno runs with the three different pulleys that I have, so see which boost gives me the most actual power on the dyno, as the smallest pulley won't necessarily give you the most power. Larry didn't put the old Comptech heads and cam on the new stock block initially, as there was some speculation that we would try to build a monster engine using the Comptech parts and a highly modified block, and just use this stock engine with supercharger in the meantime. Building a monster engine sometimes requires months and months of waiting for parts, machine shop work, etc. But Shad had a point……if ya want to go fast for the Hill Climb, put the Comptech heads and cam back on, seal up the supercharger good, and then we should be ready to go. So now I have to have NSX Modified pull the engine again…but at least they are used to it now, and get pull it out and put it back in pretty quickly.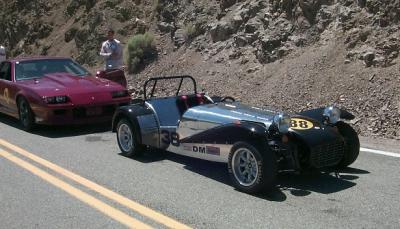 The Caterham team was there with 3 Caterhams
(Click here for bigger picture)
The weekend before the Hill Climb. Larry, Jim, Jesse, and Mark all spend time pulling the engine out, Larry works on the heads, Jim installs new timing belt and water pump, etc. Sunday, 7 p.m., Larry and Mark are finished with putting the engine in the car. Larry does the final touch up on the motor, and tells me to get into the car. I turn the key for the first time since all the work has been done on the engine, and the engine sputters. I turn the key a second time, and the engine fires up, and sounds beautiful. Larry is God when it comes to Acura NSXs. I take it for a cruise, and I am getting 7-8 lbs of boost. Not 9 lbs, but perhaps the gauge could be off one pound or so, but it is better than it was before. And under full throttle, it stays around 7-8 lbs, the boost doesn't slowly drop off like it was before. Car feels real good, real fast, perhaps faster than it has ever been before. Monday morning, I get the car aligned at Dave's Frame and Alignment in Huntington Beach. Dale, the owner, doesn't use all that high tech laser beam equipment, he does it by hand using old time alignment tools, and he does it very well. I tell him I am going to the Hill Climb in four days, and I need him to dial it in for lots of turns with slight understeer, as I don't want the back end to come whipping around and sending me off the mountain. After I am done with that, then it is off to the SHO Shop, where they have a dyno that seems to be pretty reliable. Reliable means that you don't have to throw 500 lbs of dead weight in the trunk so the tires don't spin and screw up the dyno run. Larry throws on an RSR exhaust that we borrowed from a friend, as there is a 100 db noise limit, which means we can't runs straight pipes. For some reason, Larry can't find my old RM exhaust or my old Comptech exhaust anywhere in the shop…….. but the RSR should do okay. I can't find the exhaust at my shop either, we can't remember if we sold them to someone or if we let someone borrow them.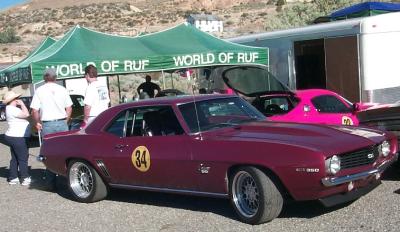 American Vintage Iron also showed up
(click here for bigger picture)
I pick up Larry, and we head over there to see Vadim at the SHO Shop. The SHO shop is a race shop that only works on the SHO Ford Taurus. The SHO Shop guys strap the NSX on the dyno, and we start doing dyno runs. I am hoping for 320 HP at the rear wheels, and I would be somewhat happy. Most bone stock NSXs put out about 230-235 at the rear wheels. The first dyno run comes up at 329 HP, which sounds pretty damn good to me. Vadim, the owner of the SHO Shop, says that by looking at the graph, it might help to put out a little more fuel pressure. Larry bumps the fuel pressure up from about 29 lbs to 32.5 lbs. I am glad that Larry insisted on installing boost gauges and fuel pressure gauges in the car, so now we can fiddle with a couple of things to get the car dialed in. We redyno, and it comes out to 338 rear wheel HP, not bad, especially since atmospheric conditions were bad, meaning it was real hot that evening at 6:00 p.m. Click here to see the Dyno Chart. Now Vadim is used to low revving American motors with lots of Torque, and he questions why the car is only putting out 230 lbs of torque. But hey, it's a high revving NSX motor, you don't get lots of torque, as it ain't a Ford motor. 338 HP sounds good to me. I take the car back to my shop, throw in 10 gallons of gas, and we are ready to pack my car into the trailer.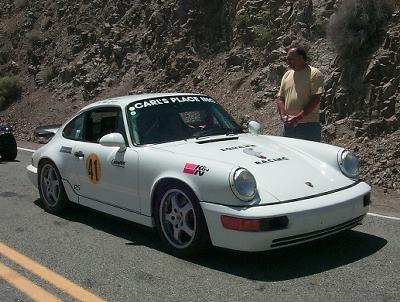 Porsche 911 RS in line at the Hill Climb
(click here for bigger picture)
Larry and Jim obtain a really cool front splitter, with a carbon fiber lip that sticks out about two inches and hangs really low. Yup, looks like this will keep the front end on the ground.
Two days before we leave for Virginia City, Wayne updates his will. Just in case he goes a little too fast and flies off the side of the mountain and dies. Wayne gets his car back from the body shop THE DAY BEFORE we leave for Virginia City. He had some lightweight front fenders and bumper that he traded some phone systems for. His car was in the stupid body shop for almost 10 days. So he is scrambling around, trying to get tires put on, get his car aligned, have Larry do an oil change, check brakes, etc. etc. He doesn't have enough time to get the car to a dyno, but it did run well over at Willow Springs a couple of weeks before, so he isn't too worried about his car. As a matter of fact, he is feeling pretty cocky....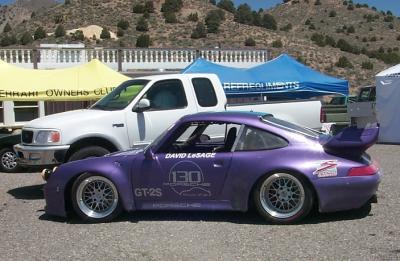 This Porsche was the fastest Porsche ever up the Hill in 1999. (note: RUFs are not Porsches)
(click here for bigger picture)
We pack the trailer up, and we meet at the shop at 5:00 a.m. on Thursday morning, and we start the 12 hour ride up to the Hill Climb. Our Ford F350 truck that pulls the trailer is a pretty awesome machine. It has 454 ft lbs of torque, and it will pull our trailer right up the hills of the highway 395 at 40 mph without a problem. We have not had any real problems with it so far, with the exception of the tranny dying on the way home from the Hill Climb last year. Our trailer probably weighs about 15,000 lbs with all the cars and equipment in it. We pass a sign on the steepest hill that says, "Avoid Overheating: Turn Air Conditioning Off". We laugh at the sign and ignore the warning. "Bertha" will pull our trailer right up the hill without any problems and we bask in the 60 degree temperature of our air conditioned cabin. Ten minutes later, I smell radiator coolant. I look at the temperature gauge. Oh Shit, it is in the Red! Larry say to pull over immediately. Coolant is over flowing from the overfill tank at a high rate of speed. We let the truck cool off for about 15 minutes, and then put a case of water into the radiator, and we take off again up the hill. With the air conditioner in the "OFF" position. We get to Carson City, and we rent a Ford Explorer to be our support vehicle. We park the truck and trailer close to the bottom of the Hill, hop into the Explorer, and off to Reno for some gambling. Jim hits $1000 Royal Flush. Larry hits a couple of hundred bucks on slots. Wayne is up about $500 on blackjack. I am up about $250 on blackjack. We are kicking ass and taking names.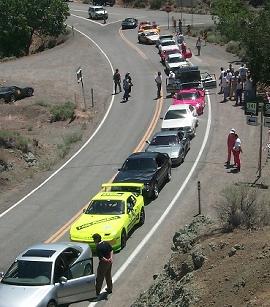 Cars in line for their turn up the hill
Saturday Morning, June 17, 2000
The weather is sunny, not a cloud in the sky. A good day to die. Normally, we have a little tent city down by the bottom of the 341/342 Highway intersection. Except last year a person bought the property on the left hand side, and didn't like having people trample all over her property. This year, she also bought the property on the right hand side, and she told Bill Pound that she didn't want people setting up tents and stuff on her property, parking trailers, etc. I do see her point, but there are two sides to every story. She probably bought this property in scenic, quiet, quaint Virginia City to kick back and have a low stress, relaxing, back-to-nature kinda of life. But then she finds out that at least twice a year she has to endure the sounds of cars that are barely street legal, cars blocking traffic, and people trampling on her property, etc. I can understand the argument somewhat, but this is kinda like the people who built houses next to Laguna Seca Raceway, and then after they build their house, they complain to the county commissioners about how the sound of the race cars interrupts their need for peace and solitude. Who is right? Both sides have their point. One suggestion to alleviate the problem was to move the start line up a half mile to turn 2. The only problem with that is the Hill Climb has been run in the current configuration for 30 years, changing the course screws everything up. How can you tell if you are the fastest car over the past 30 years if you don't use the same course? How can you tell if you improve from year to year if you change the course? It would be like asking Major League Baseball to switch from 9 inning games with 162 games a year, to 8 inning games with 151 games a year. You can't compare stats like home runs per season, strikeouts per season, wins per seasons, etc, and stats are everything in baseball, and are even more important to auto racing. Anyways, Bill Pound works it out with the residents, the city and county commissioners, the sheriffs department, and we get to use the traditional configuration of the track.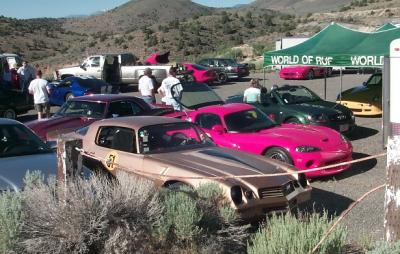 Cars parked over at the old Cabin in the Sky parking lot
I always setup a Hot Lap transmitter at the start line, and another one at the finish line. Bill Pound has someone who installs a high tech timing system like they have at the Silver State, which consists of light beam at the start and finish line, connect via a telephone line to a computer in an RV that gives exact times for all of the drivers. The reason I setup the Hot Lap Timers is that Bill won't give out the times that people ran until the Sunday night banquet, because he fears that people will crash trying to beat their previous run up the hill. This year, I setup a third Hot Lap Timer a little past halfway up the hill. I figure this way we can see our split times, meaning that if I run the first half of the hill in 2:14, which is faster than my other first half laps, then I should put the pedal to the metal and try to burn up the last half of the hill. But, if my first half time sucks, and I run a 2:17, then I can ease up on the car and the tires the second half of the run, as I ain't gonna set any record times unless I do the first half of the track in record time.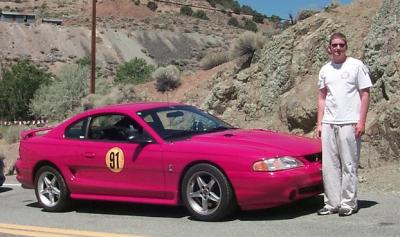 James, 18 years old, with his supercharged Mustang, ready for this first time up the Hill
(click here for bigger picture)
It turns out Raceflais was affecting a lot of other racers. Steve's RUF was out of commission for almost a year, and he just got the car back a week or so before this years hill climb after his "incident" with the hill last year. He had to send his car on a slow boat to Germany back to the RUF factory, deal with uncooperative insurance people, and have the car returned on a slow boat back to America. Amir's F40 was out of commission for a year after blowing up his turbos last year. He needed to get new, bigger turbos and engine work done, which took a lot of time and cash to get the car running again, so he was actually doing his engine/turbo break in the day before the hill climb. Can you imagine owning a car like a RUF or an F40, and not being able to drive it for an entire year? I woulda pulled my hair out, started shooting heroin, and slit my wrists to forget about the pain about not being able to drive one of the fastest cars ever built. I go crazy when my NSX is in Larry's shop for two weeks and I can't drive it.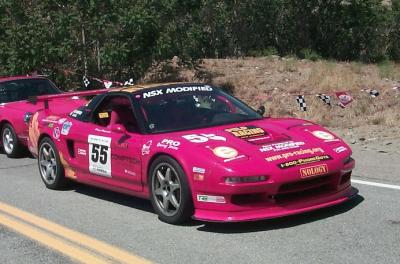 Front view of the Flamemobile, with new splitter
(click here for bigger picture)
Bill Pound, event organizer, finally had time to build up his Ferrari 308 for this years hill climb. He has been threatening for years to finish up this mythical car, and this year he got it done. It is supercharged, has a big ass scoop coming out of the rear deck (and some people said that they thought the Gruppe M and Vortech superchargers for the NSX were "aesthetically ugly?). The car runs on methanol, and puts out 600+ HP, but was detuned to 450 HP for this event. Amir was going to be the test pilot for this car and drive it full bore up the hill, but it broke down after Turn 4 on its first run up the hill. Bummer.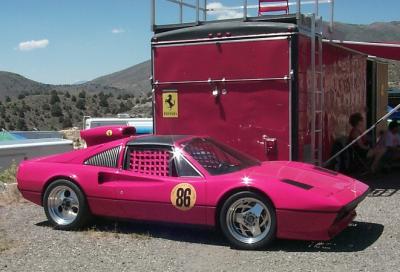 Bill Pound's Ferrari 308 with huge supercharger and intake on the rear hood
(click here for bigger picture)
My first run up the hill is a 3:41. Not bad for a warm up run. I then run a 3:36. On my third run, I blast up the hill, but the car sputters halfway through turn 2, which is probably a half mile or so from the start line. I start waving frantically to the corner worker so he can tell Bill not to send the next car around the turn. I pull off to the side of the road. The car will not fire up again. Uh oh. I have the corner workers push me back onto the road, and I proceed to go backwards with no power at 35 mph through turn 2, through turn 1, past the start line, and then back down by the trailer. Someone makes the smart ass comment that I could get an award for the fastest car in reverse with no power that comes back down the hill. Jim checks the car, and says that I have no fuel pressure, and the car is sputtering, which means I ran out of gas. I tell him that I put in 10 gallons of gas at the shop, and I have only gone about 20 miles since I got to the hill, so how can I be out of gas? Jim says he doesn't know, but I am out of gas. We throw another 10 gallons of gas into the car, and it fires up fine. Okay, back to the hill climb.
Third run is about a 3:33, which is only a second or so off my fastest time. Fourth run I run a 3:30, and car feels good. There is good power, and the car is STICKING around the turns like you wouldn't believe. The boost gauge isn't hitting 8 lbs, it is more like 6 or 7 lbs, but everyone else there with a boost gauge on their car seems to be down 1 or 2 lbs from normal, due to the altitude. Wayne is complaining that he is only getting 16 lbs instead of 18 lbs of boost in his turbo, and it is slowing him down. We think that we should test the cars at altitude next year, so we can make sure we are getting max horsepower. After lunch, I run a 3:28.9, which is a new world record between me, Wayne, and Jeff. Wayne is struggling with 3:31 or so, and he says he car doesn't feel as good as it normally does. As the afternoon progress, the asphalt seems a little slippery due to the heat, so I turn it down a bit, along with Wayne.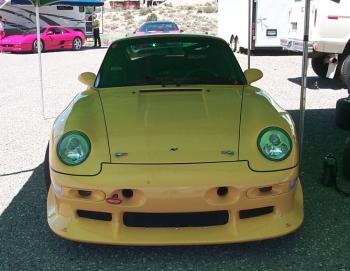 Front view of the RUF
Larry gets a chance to take a close look at the RUF CTR 2 Twin Turbo, 4 Wheel Drive. Larry is drooling, and he proclaims it the most perfectly designed car for going fast that he has ever seen. Huge brakes, integrated wing with cooling ducts to force air into the engine and oil coolers. Larry says that he can find fault with all cars, such as NSXs/Ferraris, but he could find nothing that he would change on the RUF in terms of making it go faster.
Saturday night, we hang out in Reno, and everyone seems to be winning at gambling. Larry and Jim are hitting jackpots left and right, and Wayne and I are kicking ass and taking names at the blackjack table. I get a good run at the blackjack table, and cash out $2000 after starting with only $200.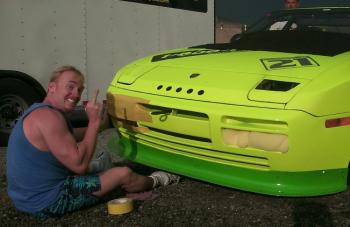 Wayne, taping up the front of his new bumper to get some "aerodynamics" working
Sunday morning, June 18, 2000
I always run my best times either Saturday morning or Sunday morning at the Hill Climb, because the air is cooler, and the surface of the road seems stickier. In the afternoons, the roads get a little too hot, and thus all the rubber on the road seems to get a little on slippery side, and a lot of accidents seem to happen then. We have a bunch of people looking at Wayne's car. He had this aftermarket turbo installed on his car about 8 months ago, and no one can find the little screw to turn up the boost. Wayne wants to turn the screw to the max, so he can beat my time up the hill. Larry and Jim can't find the adjustment, and neither can a couple of Porsche mechanics that are up at the hill. Bummer for him.....
After a couple of warmup runs, I run a 3:26.3, which is 3.5 seconds faster than Wayne has ever gone up the hill, and 4.8 seconds faster than Jeff has ever gone up the hill. Even more amazingly, I made some mistakes in gear selection and braking, so I know there is more left in the car. Looking to get my 3rd run in a row and trying to below 3:25, we have a couple of accidents which screws up my momentum. It you can get a couple of runs in a row, you can get into a rhythm of the road, and you can go faster. An Audi Quattro blows an engine, and has to be slowly taken off the course. A Vette crashes into one of the few guard rails and almost goes over the edge backwards, so the course is shut down while it is towed down. Wayne said that he saw the front of the Vette, but the back end of the Vette was teetering on the edge of the cliff where the guard rail ended. Amir hit something slick on the road going into turn 6, and spins the F40, and gets minor body dings on lower 3 inches of the body (all around the body), and throws his steering rack out of wack, so he is finished for the day. After lunch, I decide that surface is getting too slippery, so I will just tone it down a bit and take some passengers for rides up the hill so they can experience the hill. I zip up with passenger number 1, an NSX owner, and we rip through a 3:30.5 lap time without breaking a sweat. Passenger number 2, a stock market trader, gets a ride through the hill with a 3:32. She said the ride was as good as sex. Passenger number 3, with the track getting a little more slippery, gets a ride with a 3:34. Wayne gives up trying to beat my time, saying that his car didn't feel that great around some of the turns, and he also threw up his lunch, so he decides to concede victory to me and take a nap, instead of trying to risk crashing his car.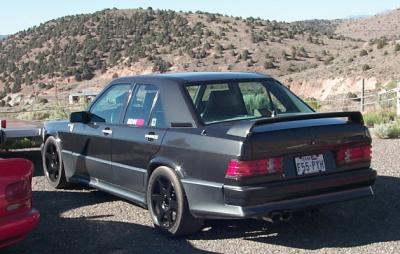 Mercedes with Renntech stickers that was in the race
The weather changes, a cool breeze comes in, and the temperature drops a little. So now my mind starts thinking……hummm…..temperature down, I got a good rhythm going, I did a 3:30.5 with a passenger…….maybe I can run a sub 3:25 time, maybe even a 3:24. For run #4, I reject all passengers, and decide to put the pedal to the metal and go for it. Green flag drops, and I blast up the hill, trying to listen for the Hoosier tires to start squealing so I know when I am at the limits of adhesion. Coming up into turn 7, corner worker jumps out, and waves a red flag. DAMN! I have to stop the car, and wait until the corner worker signals that the wild horse on the road is out of the way. So I have to throw away this laptime. The time is now 4:10 p.m. and the race shuts down at 5:00 p.m. There is time for two more runs or so. I promised one of the Quattro guys a ride in the car, and decide to give him a ride up, figuring that my last run of the day will be a solo run when the temperature is a couple of degrees cooler. We blast up the hill and it does feel a little slippery. Coming into turn 14 pretty hot, I hit the brakes and grab 2nd gear, and turn the wheel for the left hander up the hill. Except the car doesn't turn, I get two wheels off by the mountain, and I hear a big CRUNCH. Uh oh. I keep the car running, and we get back on the road, but the alignment seems slightly off, so we have to go slowly up the mountain. I feel like the the car may have wiped out the rear quarter panel at a minimum, and maybe the whole right side worse case. My passenger and I get to the top of the hill by the hotel, pull over, and look at the car. Looks like the only damage is that I lost the brand new front splitter! The rest of the car looks fine. But now, since the car is out of alignment, I can't make one last kamikaze run up the hill. Oh well, that last run may have been the run where I really crash the car. Or Die.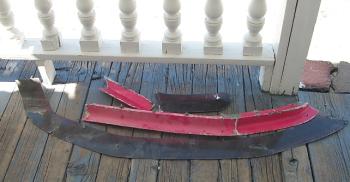 What is left of my awesome looking front splitter
(click here for bigger picture)
As soon as Wayne hears that I lost the splitter, he starts jumping up and down, "You crashed! You crashed!" in an attempt to invalidate my 3:26.3 lap time. If you will recall, when Wayne ran 3:29.5 last year, my comments all year long to his, "I kicked Doug's ass again at the Hill Climb", was "Yeah, he kicked my ass, but he crashed, so it really doesn't count". Now he is trying to get even.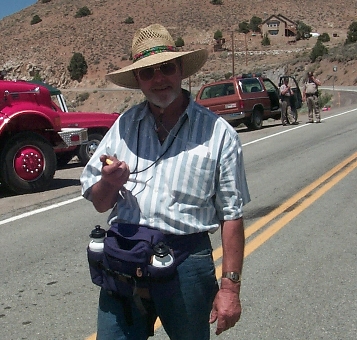 Bill Pound, event organizer for the Hill Climb
Sunday night - we go to the awards ceremony. Amir is the Master of Ceremonies, and is ragging on everyone. For me, he tells everyone that I have 143,000 miles on my car, and have gone through 3 engines. "Doug, just get a new damn car!". For Wayne, he says that on Saturday night, he took a paint chip off of Wayne's car, and sent it down to the FBI lab for testing. The FBI lab report just came back and he said that the color of Wayne's car was analyzed as "Nuclear Snot".
Wayne was on a roll at the blackjack tables. He was unstoppable. We had to stop at a bunch of casinos on the way home, and he kicked most of their asses also. He came home up with $1700 in profits!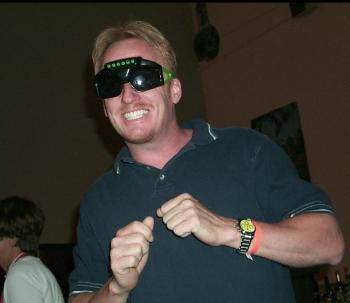 Amir awarded Wayne the Anti-Nuclear Snot glasses with buttons that play rap music on the top
I don't have the all official final times for the Hill Climb yet. But here are some of the approximate times that I scribbled down from the awards banquet.
1. Steve Beddor, RUF CTR 2, 3:13. Steve won last year also. Either Steve or his brother David have won the Hill Climb in a RUF prepared car for the last seven years that I have been at the Hill Climb. 520 HP, 505 foot lbs of torque, twin turbo, four wheel drive, integrated roll bar. Top speed at the radar trap of 138 mph, a new world record.

A RUF prepared car is the fastest car for at least the 7th year in a row at the Hill Climb
(Click here for bigger picture)
2. Amir Rosenbaum, Ferrari F40 3:1x??? Not sure of his exact time, but he was in 2nd place again for about the fourth year in a row.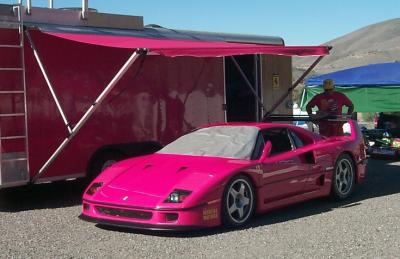 Amir's awesome F40
(click here for bigger picture)
3. Ori Rosenbaum, Dodge Viper, 3:20. Another great run up the hill by Ori.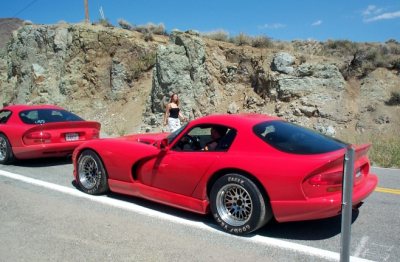 Ori's Viper with slicks and big horsepower - Photo by Eric Typpo
Click here for bigger picture
4. Doug Hayashi, Acura NSX, 3:26.3, trap speed of 120 mph. After going over the published times from the seven previous June Virginia City Hill Climbs, I have now become the 5th fastest driver up the hill the last 10 years.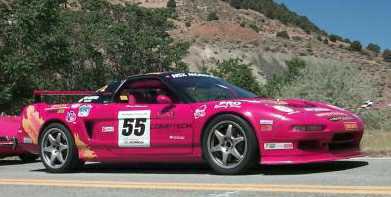 The Flamemobile takes 4th place! Is also the 5th fastest car ever up the Hill!
(Click here for bigger picture)
Since Wayne and Jeff have been ragging on me the past six years on my Hill Climb times, I have assembled another set of awards that I have humbly awarded my self for this years performance:

Fastest time up the hill by a Japanese car. (3:26.3)
Fastest radar time by a Japanese car up the hill. (120.8 mph)
Fastest time up the hill by a car without slicks. (I run Hoosiers, which aren't really slicks)
Faster that any Porsche ever up the Hill. (RUFs aren't Porsches, RUF is the world's smallest car manufacturer)
Fastest time up the hill by a car with less than 500 HP. (I have 338 to the rear wheels, which is probably about 370 HP or so, depending on how you calculate rear wheel HP off a dyno.) The Rufs, the F40, and Ori's Viper all over 500 HP cars.
Fastest time up the hill by a car with less than 400 HP.
Faster time up the hill than any SCCA PRO Racing driver up the hill. (I could not resist saying that)
Faster time up than hill than any professional driving instructor
Fastest time by a non-brother combo up the hill. (The Beddors and Rosenbaums are brother combos)

Man, that trophy shop around the block from my house is going to have to order another batch of trophies and they will be engraving for weeks.
I looked at the Virginia City Mirror newspaper the day after the Hill Climb, and they print three editions a day. Here's what the headlines were: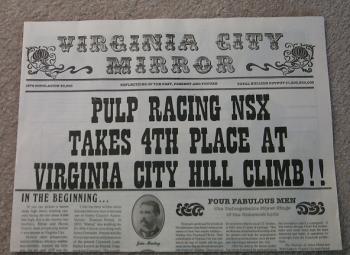 Headline from the morning edition of the local paper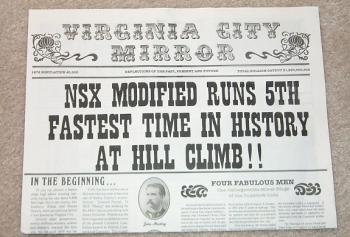 After doing more research on past Hill Climbs, the editors came up with this headline for the afternoon edition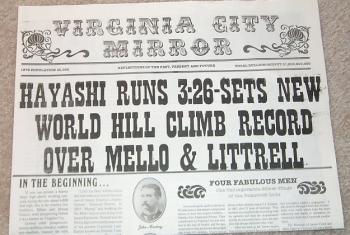 And finally, the final evening edition of the local paper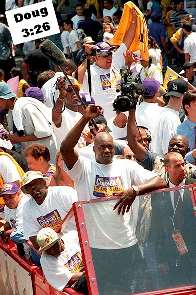 I even saw some Pulp Racing fans at the Laker Victory Parade
Well, that pretty much sums up another year of fun at the Hill Climb. Next year my goal will be to again beat Wayne and Jeff, and more importantly (since there is no way they can catch me now), is that I want to drop below 3:20. Some other interesting tidbits:
1. Steve Beddor won again, but he was about one second slower than last year.
2. Amir came in 2nd again, but it looks like he was about a second faster than last year
3. Ori came in 3rd again, but he was about a second slower than last year.
4. Wayne was about one second slower this year.
5. I moved up from 10th to 4th this year, and was six seconds faster than last year. Kinda makes ya wonder what would happen if I get some slicks, a little more HP, a little less weight, and bigger cajones and a suicide mentality for next year.....perhaps the other guys have reached the limits of their cars??? <grin>.

Larry and NSX Modified haven't given me their bill yet for pit support, pulling the engine, re-installing the Comptech heads, putting the engine back into the car, troubleshooting the supercharger leak, etc. But since the car ran especially well at the Hill Climb, I am sure it ain't gonna be cheap.....

Hopefully the June Hill Climb will be allowed to run again next year. The legalese and permits that Bill Pound has to maneuver around gets tougher every year. If we can't run the Hill Climb next June, this is what will happen to NSX Modified, 1-800-Phoneguys, and Pulp Racing. Maybe next year, YOU will have enough time, energy, determination, skill, and enough confidence in your driving and your car to enter The Last Frontier, The Virginia City Hill Climb. Stop driving vicariously, and get yer ass up to the Hill Climb!
Thanks to the following people for helping out and making my car go-fast for this event:
Larry, Jim, Jesse, and Mark at NSX Modified - Huntington Beach, 714-842-9135
Dale at Dave's Frame and Alignment - Huntington Beach, 714-841-2490
Vadim at SHO Shop - Huntington Beach, 714-894-8415
Shad and Bob at Comptech - Eldorado Hills, 916-939-9118
| | | | | |
| --- | --- | --- | --- | --- |
| | | Final Official Results | | |
| | | June 18-19, 2000 | | |
| | | | Fastest | Average |
| | Driver | Vehicle | Run | MPH |
| 1 | Beddor, Steve | Yellow Ruf CTR 2 | 3:13.085 | 96.951 |
| 2 | Rosenbaum, Amir | Red Ferrari F40 | 3:14.947 | 96.026 |
| 3 | Rosenbaum, Ori | Red Dodge Viper | 3:20.234 | 93.490 |
| 4 | Hayashi, Doug | Red Acura NSX | 3:26.381 | 90.706 |
| 5 | LeSage, David | Purple Porsche 993 | 3:28.078 | 89.996 |
| 6 | Elgby, Bo | Black Caterham Lotus Super Seven | 3:30.272 | 89.027 |
| 7 | Young, Carl | Silver Porsche Twin Turbo | 3:30.423 | 88.963 |
| 8 | Horzewski, Michael | Blue Dodge Viper | 3:30.601 | 88.888 |
| 9 | Mello, Wayne | Yellow Porsche 944 Turbo | 3:30.851 | 88.783 |
| 10 | Fuson, Duck | White Porsche 911 | 3:31.158 | 88.653 |
| 11 | Treadway, Dean | White UR Quattro Coupe | 3:34.869 | 87.122 |
| 12 | Harris, Randy | Black Chev ZR1 | 3:37.018 | 86.260 |
| 13 | Lesage, Mike | Purple Porsche 993 | 3:38.527 | 85.771 |
| 14 | Pisciotta, Jeffrey | Black Porsche 930 | 3:38.550 | 85.655 |
| 15 | Meligan, David | Red Chevy 228-ILE | 3:38.920 | 85.510 |
| 16 | Gaydet, Brian | Red Dodge Viper | 3:39.159 | 85.417 |
| 17 | Valencia, Tim | Multi-Colored Audi Quattro 4000 | 3:41.724 | 84.429 |
| 18 | Wall, Alan | Black/White Chevy Camaro | 3:42.299 | 84.210 |
| 19 | Jemison, Patrick | Black Dodge Viper | 3:42.427 | 84.162 |
| 20 | Neckas, Alex | Sapphire Audi Quattro 4000 | 3:43.732 | 83.671 |
| 21 | Krystofiak, Terry | Blue AC Cobra 427 | 3:43.895 | 83.610 |
| 22 | Eyges, Perry | Beige Audi Quattro Coupe | 3:44.240 | 83.481 |
| 23 | Lefcourte, John | Grn/Ylw Caterham Super Seven | 3:44.600 | 83.348 |
| 24 | Bennett, Andrew | Red Audi Quattro 5000 Turbo | 3:45.631 | 82.967 |
| 25 | Regan, Jeff | Gray Ferrari 348 | 3:46.086 | 82.800 |
| 26 | May, Ted | Gold Camero Z-28 | 3:47.370 | 82.332 |
| 27 | Cooper, Matthew | White Porsche 911 | 3:48.826 | 81.808 |
| 28 | Mildren, Matt | Red Chev IROC Z28 | 3:49.233 | 81.663 |
| 29 | McKenna, Jane | Grn/Ylw Caterham Super Seven | 3:50.035 | 81.378 |
| 30 | Cooper, Nina | White Porsche 911 | 3:50.658 | 81.159 |
| 31 | Westrate, Steve | Red Ferrari F355 | 3:51.349 | 80.916 |
| 32 | May, Stephanie | Gold Camero Z28 | 3:51.554 | 80.845 |
| 33 | Girgen, David | Black Mercedes Benz 190 | 3:51.835 | 80.747 |
| 34 | Leu, Joe | White VW Sirocco | 3:52.796 | 80.413 |
| 35 | Hale, Darren | Blue Audi Quattro Turbo Coupe | 3:52.922 | 80.370 |
| 36 | Gioco, Eric | Red Chev Camaro | 3:54.614 | 79.790 |
| 37 | O'Connor, Al | Platinum Dodge Viper | 3:54.930 | 79.683 |
| 38 | Benz, Dean | Silver Audi A-4 | 3:55.494 | 79.492 |
| 39 | Creech, James | Red Ford Mustang | 4:04.342 | 76.613 |
| 40 | Bilottia, Brian | White S-4 | 4:04.971 | 76.417 |
| 41 | Edwards, Danny | Silver Audi Quattro S-4 | 4:05.935 | 76.117 |
| 42 | Broadway, Paul | Gray Porsche 944 | 4:06.175 | 76.043 |
| 43 | Rosen, Jeff | Silver S-4 | 4:06.189 | 76.039 |
| 44 | Neighbors, Stephen | White VW Jetta | 4:06.290 | 76.007 |
| 45 | Bourgevis, Doug | White Ford Mustang | 4:07.468 | 75.640 |
| 46 | Erb, Richard | Yellow Datson 240Z | 4:11.056 | 74.565 |
| 47 | Chafetz, Dan | Black Ford Mustang | 4:11.651 | 74.388 |
| 48 | Bennet, Ken | Black Audi Quattro Coupe | 4:13.985 | 73.843 |
| 49 | Leal, Christopher | Black Audi S-4 | 4:15.564 | 73.249 |
| 50 | Barnett, Ed | Red Porsche 911T | 4:18.454 | 72.430 |
| 51 | Gillespie, Scott | Silver S-4 | 4:20.097 | 71.973 |
| 52 | Keene, Carl | Black UR Quattro | 4:26.214 | 70.319 |
| 53 | Maddocks, Joe | Red Ferrari 512BBi | 4:29.251 | 69.526 |
| 54 | Orvik, Sue | Green Audi Quattro TT Roadster | 4:31.701 | 68.985 |
| 55 | Miramount, Bruno | Maroon VW Golf | 4:37.690 | 67.413 |
| 56 | Kliewer | Gray Chev Corvette | 4:40.990 | 66.621 |
| 57 | Rademacher, Mark | Red Ferrari 308GTSi | 4:59.253 | 62.555 |
| | | | |
| --- | --- | --- | --- |
| 2 | | Final Official Results | |
| | | June 18-19, 2000 | |
| | | | Radar |
| | Driver | Vehicle | Speed |
| 1 | Beddor, Steve | Yellow Ruf CTR 2 | 138.3 |
| 2 | Rosenbaum, Amir | Red Ferrari F40 | 137.9 |
| 3 | Rosenbaum, Ori | Red Dodge Viper | 129.2 |
| 4 | Horzewski, Michael | Blue Dodge Viper | 122.8 |
| 5 | Young, Carl | Silver Porsche Twin Turbo | 121.9 |
| 6 | Gaydet, Brian | Red Dodge Viper | 121.7 |
| 7 | Hayashi, Doug | Red Acura NSX | 120.8 |
| 8 | Treadway, Dean | White UR Quattro Coupe | 119.3 |
| 9 | Harris, Randy | Black Chev ZR1 | 119.3 |
| 10 | Krystofiak, Terry | Blue AC Cobra 427 | 117.5 |
| 11 | Mello, Wayne | Yellow Porsche 944 Turbo | 116.1 |
| 12 | Neckas, Alex | Sapphire Audi Quattro 4000 | 114.7 |
| 13 | Elgby, Bo | Black Caterham Lotus Super Seven | 113.3 |
| 14 | LeSage, David | Purple Porsche 993 | 112.2 |
| 15 | Erb, Richard | Yellow Datson 240Z | 112.1 |
| 16 | O'Connor, Al | Platinum Dodge Viper | 111.5 |
| 17 | Pisciotta, Jeffrey | Black Porsche 930 | 111.4 |
| 18 | Meligan, David | Red Chevy 228-ILE | 110.4 |
| 19 | Lesage, Mike | Purple Porsche 993 | 110.1 |
| 20 | Fuson, Duck | White Porsche 911 | 108.6 |
| 21 | Wall, Alan | Black/White Chevy Camaro | 108.3 |
| 22 | Jemison, Patrick | Black Dodge Viper | 107.9 |
| 23 | Cooper, Matthew | White Porsche 911 | 107.5 |
| 24 | Westrate, Steve | Red Ferrari F355 | 106.1 |
| 25 | Creech, James | Red Ford Mustang | 105.3 |
| 26 | Cooper, Nina | White Porsche 911 | 104.1 |
| 27 | Regan, Jeff | Gray Ferrari 348 | 103.8 |
| 28 | Bennett, Andrew | Red Audi Quattro 5000 Turbo | 103.6 |
| 29 | Lefcourte, John | Grn/Ylw Caterham Super Seven | 101.7 |
| 30 | Gioco, Eric | Red Chev Camaro | 101.5 |
| 31 | McKenna, Jane | Grn/Ylw Caterham Super Seven | 101.5 |
| 32 | Valencia, Tim | Multi-Colored Audi Quattro 4000 | 101.2 |
| 33 | Girgen, David | Black Mercedes Benz 190 | 100.7 |
| 34 | Mildren, Matt | Red Chev IROC Z28 | 100.5 |
| 35 | Bilotti, Brian | White S-4 | 99.3 |
| 36 | May, Stephanie | Gold Camero Z28 | 98.4 |
| 37 | Chafetz, Dan | Black Ford Mustang | 98.2 |
| 38 | May, Ted | Gold Camero Z-28 | 96.8 |
| 39 | Maddocks, Joe | Red Ferrari 512BBi | 96.5 |
| 40 | Leu, Joe | White VW Sirocco | 96.2 |
| 41 | Rosen, Jeff | Silver S-4 | 95.9 |
| 42 | Hale, Darren | Blue Audi Quattro Turbo Coupe | 95.7 |
| 43 | Bourgevis, Doug | White Ford Mustang | 95.1 |
| 44 | Leal, Christopher | Black Audi S-4 | 93.1 |
| 45 | Benz, Dean | Silver Audi A-4 | 90.4 |
| 46 | Orvik, Sue | Green Audi Quattro TT Roadster | 89.4 |
| 47 | Edwards, Danny | Silver Audi Quattro S-4 | 87.8 |
| 48 | Neighbors, Stephen | White VW Jetta | 87.3 |
| 49 | Broadway, Paul | Gray Porsche 944 | 86.6 |
| 50 | Eyges, Perry | Beige Audi Quattro Coupe | 86.3 |
| 51 | Keene, Carl | Black UR Quattro | 86.2 |
| 52 | Bennet, Ken | Black Audi Quattro Coupe | 85.2 |
| 53 | Rademacher, Mark | Red Ferrari 308GTSi | 83.1 |
| 54 | Barnett, Ed | Red Porsche 911T | 82.7 |
| 55 | Gillespie, Scott | Silver S-4 | 77.1 |
| 56 | Kliewer | Gray Chev Corvette | 76.3 |
| 57 | Miramount, Bruno | Maroon VW Golf | 75.8 |
| 58 | Broadway, Jessie | Gray Porsche 944 | 73.6 |
| 59 | Rademacher, August | Red Ferrari 308GTSi | 28.9 |