LA 2000 PRO Racing Series in the Streets of Los Angeles
July 14-16, 2000
"To Live and Crash in LA"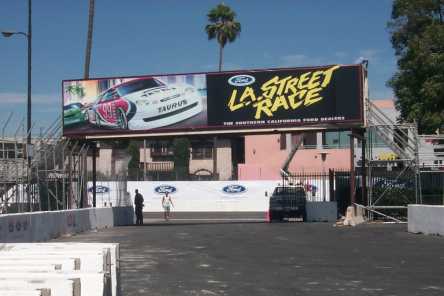 Workers finishing the sign at the end of the main straight unto Figueroa Avenue
(Disclaimer: This is how I remember the event. If there are any wrong facts in here, let me know. This is an "Unofficial LA 2000 Street Race site". If your browser shows broken links, hit the "refresh button" on your browser. You need to buy a faster internet connection!)

Okay, so next event on the calendar is the LA 2000 PRO Racing Series. This is one of our favorite events, as we get to race on the 1.1 mile course by the LA Coliseum (Ex-home of the Rams and Raiders) and the LA Sports Arena (Ex-home of the infamous LA Clippers, possibly the worst team ever in professional sports). It is also only about 45 minutes from our house, instead of trailering for 3 hours to Willow Springs, 3.7 hours to Buttonwillow, 10 hours to Laguna Seca, or 12 hours to the Virginia City Hill Climb.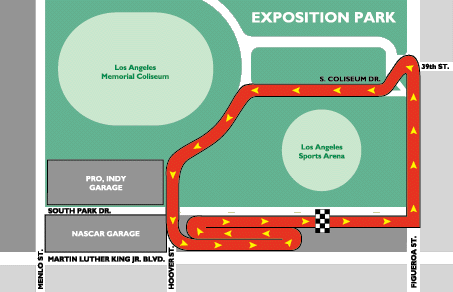 This map isn't exactly right....the "S" turns are flipped over on the wrong side of start/finish line
The Official Sponsors for our portion of the race, along with the LA 2000 Cobra Cup Race are the following companies that kicked in time, energy, and bucks to help put this race. They are:
There is something exciting about racing wheel-to-wheel with concrete barriers on both side of you that cannot be explained. I guess it has to do with the adrenaline rush that a person can get when they feel they driving a vehicle stripped of all unnecessary weight, and adding all the power that your budget will allow, making the exhaust run free at 110 db, and piloting that vehicle within inches of crashing on either side. You feel that you are in complete control of a wild beast that you use to attack other people's wild beasts. This is my 8th year or so of tracking my NSX, with two of those years doing the wheel-to-wheel racing group, and I have never been involved in a accident or a fender bender, so I am pretty psyched up for this event. Speedvision once had a special on an exotic cars, and after taping various medical instruments and sensors on a person's body to monitor heart rate, breathing, brain waves, etc, said that they discovered that driving a car extremely fast gives the same readings on their sensitive instruments as a person indulging in "pleasurable activities". And we all know what that means……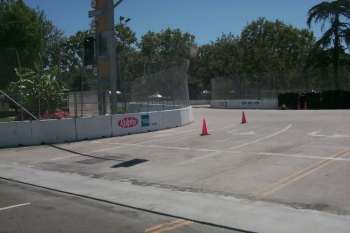 Turn 2 goes from street asphalt to a dip of newly laid cement into an S turn
Two years ago, at the first PRO Racing Series event on the Streets of Los Angeles, Wayne and I teamed up in the NSX and came in 8th overall. Last year, I came in 8th overall as a solo driver, and Wayne was a DNS due to his turbo blowing up. He also hit the tire wall, but that was a minor incident, he could have kept racing if it wasn't for the turbo exploding and spewing huge white clouds of smoke.

Turn 3 goes into another S turn with walls on each side
This year, the plan was to enter both our cars and drive solo for the weekend, and I wanted to be in the top five overall for the race. So it was The NSX vs. The 944 Turbo in yet another match up, as to who will be king of LA…….here's the story……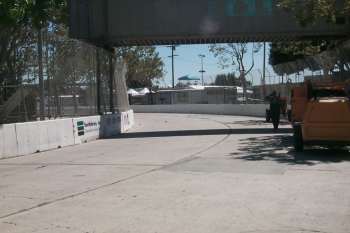 .
Turn 4, with the Pulp Racing trailer in the far background
After being decimated at the Hill Climb by the NSX, Wayne decides he has to go into overdrive. Now for Wayne and I, this doesn't mean doing the smart thing, which would be to take the next level Advanced Road Racing course at Bondurant, or getting professional one on one lessons with a pro driver. Instead, he goes for an adjustable boost gauge for his turbo, combined with upgrading to the Big Red Lobster Porsche front brake calipers, as well as increasing the size of his front rim/tires from 245/45/17 to 275/35/17. Now Wayne figures he needs the adjustable boost gauge for his Turbo because now and then he wants to go above the "normal" 18 lbs of boost that his turbo puts out. Supposedly now he can "turn up" the boost to 25 lbs at will, but the higher up you go, the more chance that you will blow up the engine, the turbo, or the head gasket. So there is a fine line that you have to tread……and you figure that Wayne isn't your normal "conservative" type of personality. Giving Wayne an adjustable boost controller is like giving a submachine gun to a soldier and saying, "Now remember, in the heat of battle, when people are trying to kill you, just shoot one bullet at a time, don't put the gun in full automatic mode. You might want to save your bullets for another day." Yeah right……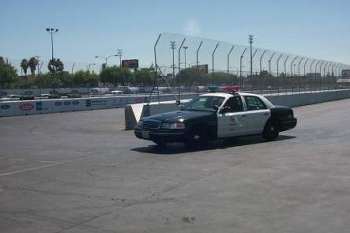 Police car checking out one of the 180 degree, first gear turns
As for me, the NSX is running fine. I had to replace the front splitter from my minor "incident" at the hill, get an alignment, and Dale at Dave's Frame and Alignment in Huntington Beach recommended that I replace a couple of front tie rods, as they were getting kinda old and creaky. My gas gauge isn't working, so NSX Modified was working to get that calibrated, except that while we were going through the gyrations, we didn't know that you can't calibrate the fuel cell with the existing fuel gauge, you need a new external fuel gauge. So we will put off that exercise for another time.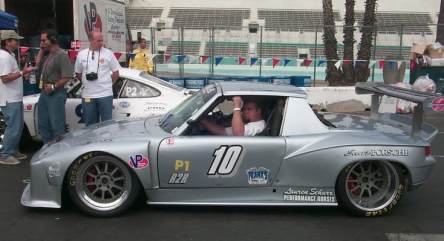 Not your average Porsche 914 that you remember back in the 1970's
(Click here for bigger picture)
Wayne wanted to get his car dynoed, but as usual, he was fighting Raceaflais until the very last minute, getting his car back from Vision Motorsports with all the hardware goodies installed, the new wheels installed, the suspension aligned, all in the last 24 hours before we packed the trailer.
We picked up a couple of gizmos at the Hill Climb last month. We got a scanner, and plugged it into some battery powered computer speakers, so we can hear what the track workers are saying. This is helpful, because we can hear stuff like, "Number 24 just crashed and we will need a tow truck", "We will be ready for the next run group in 20 minutes", "Number 34 is driving like an idiot" while we are sitting in the pit area. We also have to know what frequency these workers are on, and to make that easier, we picked up a Radio Shack frequency scanner, so you just go up to a track worker, have them hit the "talk button" on their radio for a couple of seconds, and it shows the frequency that they are on. You plug that into your scanner, along with the frequency of our track radios, and now we can have someone in the pits monitor both the track officials and our radio conversation while we are ripping around the track. Someone said that you could use this gizmo to help you monitor those cordless phones in your neighbors house, but I wouldn't do that. No, not me....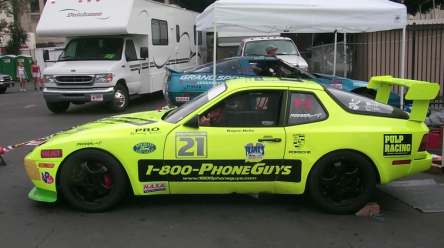 Wayne's 944 Turbo with new boost controller, front calipers, bigger front rims
(Click here for bigger picture)
My strategy for this year is that the pit stop is where you win and lose the race at the LA Street Race. The rules at the beginning of the weekend were that for the final race on Sunday, all the PRO cars had to make a mandatory pit stop to put in at least 3 gallons of gas through at ¾ inch tube using a plastic gas can. You have to do the following:
Driver stops the car in front of the pit area

Driver gets out of the car

After 1 and 2 are done, fueling can begin. One person fueling, another person holding a fire extinguisher

If one drop of gas hits the ground, you are penalized five laps

You must remember to ground the plastic gas can to the car via a grounding strap, or it is a penalty also.
The problem is that in the heat of the moment when cars are racing by you, since the driver is trying to haul ass and get out of the pit area, people usually spill gas, forget to wait until the driver is out of the car, forget the grounding strap etc. Also, you cannot pit under a full course yellow flag. If you are lucky enough to pit right before the track goes full course yellow, you easily gain a half a lap or even a full lap, as everyone else has to go slow, and you are in the pits doing your mandatory pit stop. So I figured with the scanners, the radios, etc, if someone could hear the track officials say, "Number 33 crashed into the wall, we need a tow truck", and if our radio man can hear this and tell us so we can duck into the pit area before they close it for the full course yellow, we have a chance to be in the top five for the race. Since this is the LA Street Race, and the course is real tight with lots of concrete barriers, there will probably be multiple full course yellows. We just have to pick the right time to pit.
On Thursday, I drive the big trailer down to the LA Coliseum by myself. I am one of the first people to get there, and it seems there is a lot of confusion as to where I can pull into the paddock area. I have to be one of the first guys into the pit area, as I am supposed to park against one of the fences, and I want maximum room to manuever the big trailer. Unfortunately, the security crew that is working the event do not have a key to the padlock to open the both doors of the gate, as I can't make the tight turn though the single six foot wide gate with the 48 foot trailer coming in from a narrow street. Fortunately, I carry one of those Houdini lock pick kits in the truck, just in case something like this happens, so I won't block the entire street and cause a massive traffic jam. Using the Houdini lock pick, we are able to open the gate, and I park the trailer, unload the cars, and we are ready for the practice session tomorrow. The tentative schedule for the weekend was going to be the following:
Friday, July 14
1:00 p.m. - 3:15 p.m. NASCAR and Truck Practice
3:45 p.m. - 4:30 p.m. LA 2000 PRO Racing Series Practice
4:45 p.m. - 5:00 p.m. LA 2000 Cobra Cup Practice
Saturday, July 15
7:30 a.m. - 7:45 a.m. LA 2000 PRO Racing Series Practice
8:00 a.m. - 8:30 a.m. Ultra Wheel Spec Truck Practice
8:45 a.m. - 9:00 a.m. LA 2000 Cobra Cup Practice
9:15 a.m. - 9:45 a.m. Ultra Wheel Spec Truck Qualifying
10:00 a.m. - 10:30 a.m. LA 2000 PRO Racing Series Qualifying
10:45 a.m. - 11:15 a.m. LA 2000 Cobra Cup Qualifying
11:30 a.m. - 12:00 p.m Ulta Wheel Spec Truck Qualifying
1:00 p.m. 3:00 p.m. NASCAR Featherlite Southwest Series Qualifying
3:15 p.m. - 4:15 p.m. LA 2000 PRO Racing Series Qualifying Race
Sunday, July 16
7:30 a.m. - 7:45 a.m. LA 2000 Cobra Cup Warm-up
8:00 a.m. - 8:15 a.m. LA 2000 PRO Racing Warm-up
8:30 a.m. - 9:00 a.m. Ultra Wheel Spec Truck Qualifying
9:15 a.m. - 10:00 a.m. LA 2000 Cobra Cup Race
10:15 a.m. - 11:00 a.m. LA 2000 PRO Racing Series Race
11:15 a.m. - 12:00 p.m. Ultra Spec Trucks
1:30 p.m. - 2:00 p.m. Ultra Spec Truck Race
3:00 p.m. - 3:15 p.m. NASCAR Featherlite Southwest Series Driver Intro
3:15 p.m. - 6:15 p.m. NASCAR Featherlite Race
Since we are the undercard for the NASCAR Featherlite race, our scheduled could be changed as needed on a moment's notice. In our race, we have cars rated in the following "general" classes:
P1T - the Porsche Turbo cars. 2200 lbs, 550+ HP
P1 - Normally aspirated Porsche 911 RSR, Porsche 914-6 with huge slicks and wings, 944 Turbos with 450+ HP
P2 - Me and Wayne, the World Challenge Vettes, some of the Mustangs, some normally aspirated 911
P3 - Some of the Mustangs, RX-7s, Talons, Accords, etc.
Friday, July 14th.
Jessie shows up to help Wayne and I get setup for the practice session. Larry is held up at his shop, as he needed to complete a customer car, and the parts were arriving much later than they should have. We setup our hot lap timers and we are running about 1:02 lap times. The fastest we get on the track is about 90 mph, as the track is really short and tight. It is possible to negotiate the track and never get out of 3rd gear. There are two first gear turns. NASA timing and scoring put a transponder on my car, but it only worked for two of the 20 or so laps, but I am not worried about it, as it is just a practice session. We complete the long practice session without any major incident, but we are getting within inches of the concrete walls and tire barriers as we are ripping through the course. We both have a couple of close calls with getting the car lose, but we are able to regain control.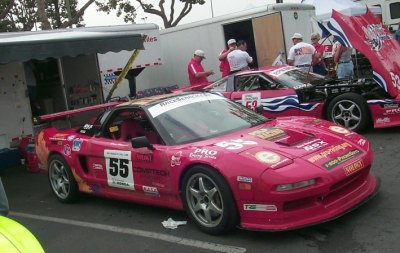 My car with yet another new front splitter on it
(Click here for bigger picture)
Saturday, July 15th.
We wake up at 5:00 a.m., as we are trying to get to the track by 6:15 a.m. We run our practice session, and then we are notified that there is a schedule change. No longer are we going to have a race at the end of the day, instead the qual race is moved up to 10:00 a.m. So, instead of a qualifying at 10:00 a.m. for fastest lap, we have a race, and they are gridding us based on our practice laps from yesterday. Which for me, really sucks, as NASA has me at a 1:05, instead of a 1:02 due to the fact that my transponder wasn't working correctly, so I am two thirds of the way down the pack. Bummer, but hey, that is how the ball bounces sometime in racing…….Wayne is grinning, as they have him at a 1:02, and he is farther up the pack. We figure that with the schedule change, we will race, then go back to the hotel room, take a shower, kick back, and hang out in LA at some trendy restaurant with our crew. Dagmar and Amy will dress fashionably, the rest of us will dress like a mother's worse nightmare, wrinkled t-shorts with holes in them, and short pants and shoes with grease on them.
We scramble to get our cars ready. I feel like I have to have a big checklist in the car, as I seem to always forget something. The sequence before I go on the track is:
1. Check tire pressures
2. Take helmet, gloves, neck brace, ear plugs for radio
3. Put window net on
4. Plug 12 volt battery wire in for the Race Cam
5. Check plugs for camcorder
6. Turn on Datacam
7. Grab a bottle of water (to drink before we go into the grid)
8. Fill up in-car thermos with water (to drink water out of a five foot straw during the race)
9. Plug in earplugs to helmet, plug in helmet to radio
10. Do radio check
11. Check to make sure camcorder is recording correctly
12. Throw out bottle of water
And you thought racing was easy………..
So they are letting us on the track one at a time, in about 2 second intervals. We proceed to start warming up the tires. No one has told us if it is a single file start or a side by side start on the grid, but I assume the people gridded in the front of the pack know this. We get on the track front the paddock right at the start of the big first gear turns. As we are warming up the tires coming around the 2nd of the first gear turns, I see a WAVING GREEN FLAG! What the heck? Usually we get one or two warm-up laps, instead we are going directly to green after being on the track for 400 yards? Maybe NASCAR was cutting our time, and the starter just said, "Hey, no time for warm-ups, let's start racing before they kick your ass off the track". Wayne is screaming on the radio, "Did I just see a Green Flag? What the hell is that?". I just floor the car and roll with it, it looks like the race is on. In racing, there is no use in getting pissed off at schedule changes or incidents, ya just gotta go with the flow.
I pass a couple of car, and I end up right behind Wayne. The karting has helped our driving tremendously, especially for setting up to pass people. Karting has taught us to stalk the person, watch where they brake, determine if you can outbrake them on a particular turn, and then the next time around, draft the person, and then dive infront of them going into the turn so you can cleanly get in front of them so they can see you are making a pass. I am gaining on Wayne, and it will only be another lap or two before I try to match my Brembos against his new Porsche calipers. Coming around a tricky turn, the back end gets loose, I flick the wheel to get out of trouble, oops too much, correct again, ooops, too much, and then I "nick" the tire wall with my right front fender. The tires bounce up against the concrete wall, and then bounce back, grabbing my 3 lb carbon fiber passenger door, and ripping it off the hinges. Ooops. I proceed to keep going. The car seems like it is still in alignment, but I don't have a passenger door, there is just the rollcage bars showing. DAMN! I don't want to be a DNF, as then I will have to start at the back of the pack for the final race on Sunday. I zip past the start finish line, and I don't see anyone waving a black flag at me to come into the pits. I keep racing. I zip past start finish again, and still no black flag. I guess since the NASCAR guys and the Spec Truck drivers crash all the time, this is normal to the officials. I keep going, trying to catch up to Wayne.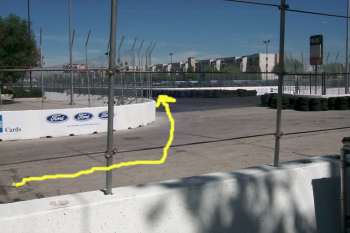 Left hand turn where I "nicked" the tires
Uh oh. Now the NSX won't go into third gear. Unbelievable. I have to quadruple clutch to get the car into third. Sometime I have to quadruple clutch to get the car into 1st. Now this really sucks. I start to hold up traffic in some turns, so I decide that I have to pit, and end up a DNF for the qual race. Bummer. I have this feeling that perhaps the clutch doesn't like those 2nd to 1st gear down shifts at 35 mph.
I come into the pits minus the door. Fortunately, no one ran over the door, so we are able to get the door back, and theoretically we could duct tape it back on, as it only weighs 3lbs. The bigger problem is the clutch. I tell Larry that the clutch feels like the last time I blew it up. He starts thinking……"hum…..was there an old spare clutch on top of the ceiling storage room at work?" Wayne comes in, and say, "Hey, you crashed. You crashed!". Which is what I told him last year when he crashed in the exact same place. After 8 years of tracking the Flamemobile, I experience my first crash/body damage ever to my car.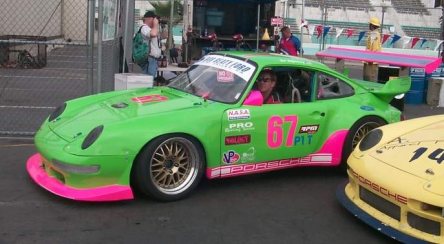 This guy was on pole for the final race.....but was knocked out in first lap
(Click here for bigger picture)
Larry says that if we get the NSX to his shop, he might be able to figure out what is wrong, and fix it. Unfortunately, we didn't have enough foresight to bring the street exhaust, or else we could have just put the street exhaust on, and then physically drive the NSX on the freeway to Larry's shop, fix it, and then drive it back. The racing exhaust is about 105 decibels, so it could be a major bust to drive it back like that. With the straight pipe racing exhaust, it is almost as loud as a NASCAR Featherlite car. The original plan two days ago was to have Brent bring the small open trailer to the event, and keep it parked outside, incase something broke, so we could "shuttle" the broken car wherever it had to go. Unfortunately, everyone got late, so we told Brent to leave the small trailer at the shop, and that we wouldn't need it. Big mistake. The big trailer is hopelessly fenced in by about 10 other trailers, so no way we could get out. So I decide to call the Auto Club, and have them tow my car to Larry's. Two hours later, they show up, and I get my car back to Larry's, which is only about 50 minutes away from the LA Street Race.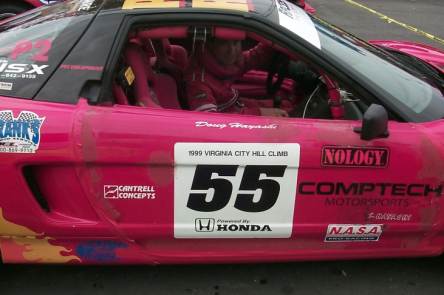 Carbon fiber door held together with resin, bondo, and duct tape
(Click here for bigger picture)
I get to Larry's shop, and Jesse and Larry are pulling out the clutch, and Mark is getting some fiberglass to bond the passenger door back to its carbon fiber frame (the frame that gives it the depth of a door), which then connects to the hinges. Mark figures that he has to rivet the door to the carbon fiber frame, except drilling carbon fiber is tricky, you don't want to accidently crack it. But Mark is one of those guys that has all kinds of tools……such as a 5000 rpm dentist drill with miniature drill bits for drilling out cavities. So for a while, Larry's shop has that unpleasant sound of a dentist drilling into your tooth as Mark fixes the door. Seven hours later, we are parking the car in the paddock area, all setup and ready for the final race tomorrow. Later that night, we find out from Wayne that it really wasn't supposed to be a "qual race" that we ran, it was supposed to be regular qualifying, so we were just going for fastest lap. There was some confusion between the starter and the rest of the track. Which is good for me, as I thought I was a DNF and would have to start at the back of the pack. Instead, I am gridded 15th or out of 30 cars, despite the fact that I only had a few good laps with the door on, and was having clutch problems. And guess who I am gridded behind? Yup, I am gridded right behind Wayne's 944 Turbo with something like a 1:00.9 lap time, despite the fact that I didn't have a door and the clutch was dying, and I only got a couple of fast laps in. Wayne had a entire 45 minute session of hot laps with adjustable boost.....
Sunday Morning, the Big Race.
At the driver's meeting in the morning, we are informed of some new rule changes for the race. The NEW rules for the race are:
No Fueling Allowed. Apparently the Los Angeles Fire Department didn't like the idea that people would be refueling in our race. Is it me, or are government officials constantly getting in the way of the people of this county trying to do their job? Let's see, this is an auto race powered by gasoline, not a solar powered race, not an electric vehicle race. It is one of the biggest events in LA, they have to shut down streets, setup concrete barriers, install fencing, hire thousands of people to get the event to happen. Our race is scheduled to go for one hour. Except if we can't refuel, there are some cars that might not be able to race full throttle for an entire hour, as they will run out of gas. Which means our race is now shortened to 45 minutes. We have grounding straps, I bought two extra large Nomex suits just for the pit crew to use in this event, we have fire extinguishers, etc. Which now we really don't need now, since there is no refueling allowed.
You can pit during a full course yellow with no problem. So much for the strategy with getting an edge with the scanner and radios.
We will still have a mandatory 3 minute pit stop, timed by when you come into the pit. But since we don't have to refuel, I guess our pit crew is supposed to do a little Indian dance around the car while we wait for the clock to tick to 2 minutes and 30 seconds, at which time we are to proceed to pit exit, and wait for the timing guy to signal when 3 minutes are up.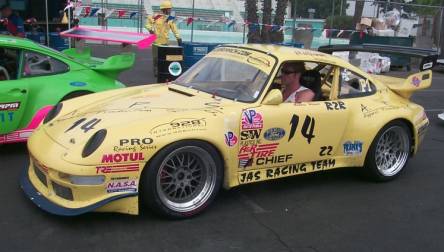 Last year's winning car, the Cross/Hainer team
(Click here for bigger picture)
Okay, so now we have to come up with a new strategy. I tell Wayne and the crew that since we can pit under a full course yellow, we should now place our bet as to when to come in. I suggest that when the first wreck happens (hey, it's the LA Street Race, there are lots of walls, course is tight, etc), we should NOT pit, because a bunch of cars will probably pit at the same time. Now if a bunch of cars pit, and timing and scoring needs to make sure that each car is there a minimum of three minutes, there may be confusion in the pit area, one of the cars might pull up to pit exit too early, thus holding up people behind them who timed their pit stop perfectly. So, our bet is that we should wait till the second full course yellow, as there will not be anyone in the pits, and we can get a clean entry and exit without being held up. Someone asks what happens if there isn't another full course yellow? I tell them that then we are screwed, as we are in the pits for 3 minutes while everyone is running hot laps. But, if our goal is to be in the top 5 overall, we have to make a bet and take advantage of lady luck in order to beat some of the cars that have much more power than us.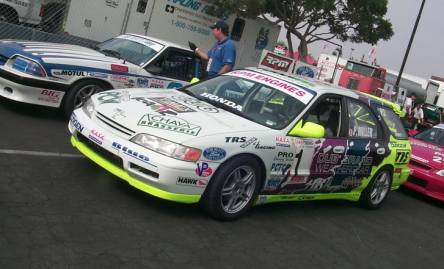 Honda Accord Wagon
(Click here for bigger picture)
So I am gridded 14th for the final race, as one car dropped out. I am on the far right hand side, behind Wayne and Buzz in the Bob Beatty prepared Mustang. Green flag drops, and I get a great jump on the start. I blow by Wayne and Buzz going into the first turn. We all bunch up, going through the turn at 23 mph side by side instead of a normal 55 mph to make sure no one causes a huge crash. Coming in to the 2nd turn, Wayne dives on the inside on me, and I figure he would not be an idiot and try to squeeze in on me, but instead he gets right on my drivers side door. We go through turn 2 and turn 3 side by side, clearing the concrete walls on both side by a small margin. I am right on his butt in the next turn and he is right on the butt of a black 944. I get right on his bumper at the beginning of the front straight, but it is apparent that he played with the boost control, as he pulls a good two car lengths on me in the straight. On the next turn he gets by the other 944, as do I. Again, right on his butt coming into the big S turn. I catch him under braking, but his Turbo is running strong. No doubt in my mind the boost is turned up. We play this game for a couple of laps or so, me catching him under braking, him pulling away on the straights. Then the first incident happens, the 944 goes into the wall, apparently aided by a car coming out of the pits. Immediately, 8 or 9 cars dive into the pit area, just like I expected. So now we let them deal with the confusion of all these cars in the pits, pray that some people get screwed on getting out, and hope that we have another wreck on the course so we can make out pits stop. Curiously, the pace car does not get to the front of the pack, it seems like it just arbitrarily ducks in front of a group of cars that it happens to be close by when the pace car enters the track.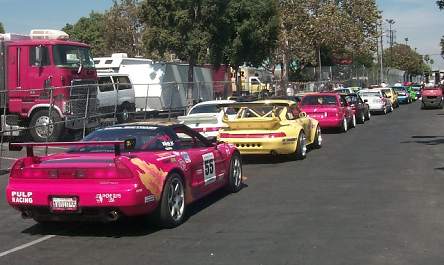 In line for a practice session
(Click here for bigger picture)
It takes FOREVER to get the other 944 off the track. It seems like the tow truck driver must have been confused, or employed by the LAFD, as he is having problems with the simple act of removing the car from the track. Meantime, more people are diving into the pits and taking their 3 minute pit stop, as it is apparent to them that the tow truck driver must have forgot something, like maybe a tow hook or lost his keys on the track. I radio to Wayne, and tell him to be patient, as if we dive into the pits now, they might finally get the 944 off the track, and the track will go hot when we are in the pits, and we will get screwed out of a lap. Unfortunately for us, the pace car gets one car in front of Wayne, and is leading an Mitsubishi Eclipse. If the pace car would have came out behind us, we could have picked up another lap. After what seems like 11 laps of full course yellow (13 minutes, to be exact, which means we could have pitted four times over. Hey, how was I supposed to know that the tow truck driver had the IQ of a Justice Department Lawyer).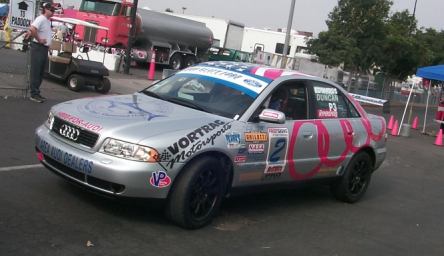 Audi sedan entered was also entered in the race
(Click here for bigger picture)
Green flag drops, and the Eclipse is flying along at a good clip. It takes Wayne a lap or two to get by him, and then I get by the Talon also. And then the P1T and P1 class cars start stalking us like a shark moves in on a sea lion. A normally aspirate Porsche 911 RSR gets right on my ass, so I make room to let him by. There is no way I could have held him off. In a flash, he is right on Wayne's butt, and in another flash, he passes Wayne. Coming down the main straight, a 911 TT smokes by me on the straightaway. In another half a lap, the 911 TT blows by Wayne. Wayne catches up with slower traffic, and we fight our way through these cars.
Then it happens, another full course yellow. We go into the pits, and the pits are empty. Perfect strategy, damn, I am a racing strategy genius. We will get out cleanly, no other cars to worry about. Except after 2 minutes and 30 seconds Wayne goes to pit exit, and they immediately let him out in front of the pace car. Me, I am stuck there waiting an extra 18 seconds AFTER they let Wayne out. A bunch of cars are still running behind the pace car during the full course yellow, and I hop in line with them, but Wayne gets about six cars ahead of me, instead of being right in front of me. Damn it all. So now we have another six laps or so of full course yellow while they remove Sean's Vette that has broken down. Bummer for Sean, he wanted to use that car to enter the World Challenge Race at Sears Point next weekend, along with Mike in his Corvette. Since we are on full course yellow, Wayne is hauling butt to get around the track again, in an effort to build his lead a little more.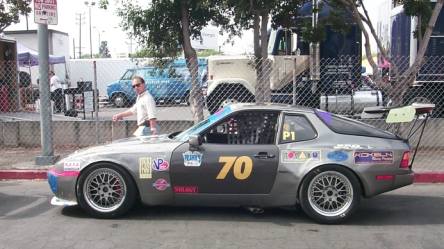 Tak's car, driven by Dwain from Vision. Rumored to have 478 HP.
(Click here for bigger picture)
I am gridded behind Dwain who is driving a 944 Turbo that reportedly has 478 HP. On the restart, Dwain blows by the car in front of him, and goes side by side into the inside of turn at the end of the straight. It looks like Dwain taps the car in front of him, which spins, and both those cars spin and collide in a big heap. I dodge by those two cars, and also get by another car that maneuvers around this wreck. So we go to another full course yellow. And the real bummer is that the pace car comes out behind Wayne, and about seven cars in front of me, so again Wayne gets to make up time in front of the pace car. Unbelievable luck for Wayne.
On the restart, I get by one car, and in the next lap I pass five more cars. Time is running out, and Wayne is no where in sight. Coming down the front straight, there is a Honda Accord Wagon that I pass on the inside at the last second going into turn one, just like Dwain did. I am carrying a lot of speed on the inside lane of the turn. Unfortunately, it is a little too much speed, and I also hit the dip at the end of the turn straight on, instead of at a slight left hand angle. As a result, I brake too late, screw up my downshift, and come shooting straight out towards the tire wall and the concrete embankment. Luckily, I get the car slowed down enough and get it turned in enough so I don't hit anything, as the Accord driver blasts past me, probably looking at me like I am an idiot. Half a lap later, the Accord driver lets me by (probably out of fear from my last stupid move). They wave the white flag, signaling one more lap to go. I see Mike in his World Challenge Corvette making a run at me. Last year, he nipped me at the checker for 3rd place in class, and this time I am determined it ain't gonna happen again. I think I am a lap down, due to my pit stop and getting stuck right behind the pace cars, but there is no one else in sight but me and Mike. So if I hold him up, it is not like he will lose a spot, unless he is on the same lap as me. I take a narrow inside line on all the remaining turns, ensuring that he won't risk diving down on me. Coming to the check flag, I take him by a couple of car lengths.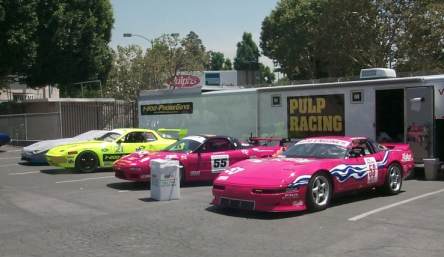 Wayne and I were gridded with the Vette guys, Sean and Mike
(Click here for bigger picture)
With the pit stops, all the full course yellows, wrecks, and general confusion, it is hard to say who finished where, so we have to wait for the final results printed out from the computer via the transponders. Doing a quick mental calculation, I think that Wayne may have a chance at getting into the top five finishers for the race, due to his pit stop and his getting in front of the pace car twice. Unofficially it turns out that Mike took 3rd overall, and first in the P2 class. Wayne took 7th overall, and 2nd in P2. I took 11th overall, and 4th or so in P2. Wayne and I have arguments every day since the final race, as whenever someone asks Wayne how did he do in the LA Street Race, he says, "I took second place". Period. That is all he says. He never says, "I took 2nd place in my class". So I maintain that makes it sound like he took 2nd place overall, which is not a true statement. Wayne says that he is not racing against the P1T (911 Turbos) or P1 cars that are faster than us, he is just racing against the cars in his group, which justifies his say, "I took second place", which I feel is a complete misrepresentation of how he truly did at the race. I tell him that it is much cooler to say you were the seventh fastest guy out of all the cars entered in the PRO Racing Series, but he disagrees. I also bitch and moan that he got the benefit of a lucky pit stop, otherwise he and I would have been duking it out on the streets of LA, door-to-door for the last half of the race. He disagrees, but I have here undeniable PROOF that he got lucky in this race.
Anyways, on the bright side, my car was the sixth fastest car overall in terms of fastest lap for the race with a 58.1 or so, which was a tenth of a second or so behind Mike in his World Challenge Corvette. The really fast guys were running in the 55 second range. So maybe with a couple of breaks, I coulda been a contender for a top five OVERALL spot. The dent isn't too bad on the front fender, and the carbon fiber door can be fixed, so I figure I got away lucky this time.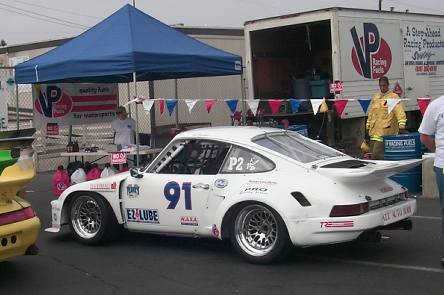 Wayne was duking it out with Lynn's car for 2nd place in P2
(Click here for bigger picture)
In terms of the damage report for the weekend, in our series it seems that the both cars of the Pennyweb Racing Team crashed, two 944s crashed, two 911s crashed, I "nicked" a tire wall, a 911 Twin Turbo had some type of incident, a really fast 914-6 broke a ring and pinion on one of the dips, Sean's Vette broke a tranny shaft. BUT, I am pretty sure that we will all be back again next year, begging to get our entry accepted for this race, as a road-racing course on city streets is one of the biggest adrenaline rushes you can get.
Epilogue:
Mike takes his Corvette and runs it the next weekend at Sears Point in the Speedvision World Challenge GT Race. He ends up 28th out of 42, races cleanly, on a track that he has never been on before. He figures if he had more practice on this particular track, he could gain 2 seconds a lap, which would probably move him to the upper half of the pack. Jovo, another friend of ours who invented the Gtech gizmo and who was in the LA Street Race last year, runs 30th out of 42. James Sofronas is a DNS for this race (after winning a BMW Race a couple of weekends earlier), but his brother Brad takes 20th overall in a BMW M3. So Mike, Jovo, Brad, and James step up to the plate, and they go to the big show…….and me and Wayne are still figuring out how much cash it would take for us to make it to the next step up the ladder…….unfortunately, we need the NASDAQ to hit 6000 before we even consider re-arming ourselves with more hardware to try to shoot it out with the big boys in World Challenge. Any one out there willing to sponsor us? Just think how cool these stories would be if we were duking it out on the same track as Bobby Archer, Peter Cunningham, Michael Galati, Bill Cooper, Dave Schardt, and our good friends Mike, Jovo, James, Brad, and Sean……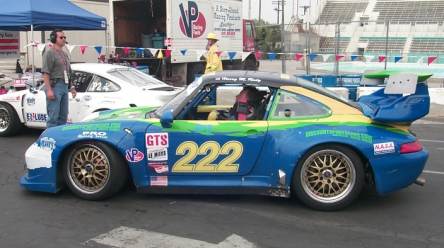 Harry Rady, overall winner of the LA 2000 PRO Racing Series. The New King of LA!
(Click here for bigger picture)
Our next car race isn't for a couple of months, so in the meantime we will be practicing a lot with the go karts. We have a night race at the Willow Springs Kart Track on August 19th, so we figure between now and then we can get a bunch of practice in the karts, and then duke it out to see who is the karting king between us. I do have a brief karting update that I should get on the site here soon........