February 11, 2017
"We Can Get Better, Because We're Not Dead Yet"
(quote from Frank Turner)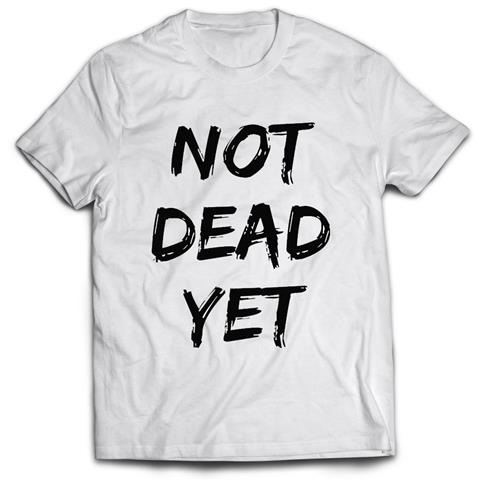 It's been a long time. Yes, we are still around!
The last update to the Pulp Racing/NSX-Files website was June 28, 2011? Holy crap, has it been that long since the last story? Everyone keeps asking me, "What the heck happened to you guys, you disappeared off the face of the earth?" I'll go through the very long explanation of what we have been up to, because when you say "kid sports", some people don't understand how involved that can be.
Sidenote: After about six years from the last story, do people even still read rambling, self-aggrandizing long form web stories anymore? Or is everyone's attention span now summed up in abrupt 140 character tweets with no backup information, or maybe into a paragraph or two on Facebook, or a picture that is visible for just 10 seconds? Maybe the world has past me by, and no one has the time or patience to read an actual story anymore. Car Crazy Dan wrote a really nice article a few years ago about the self-deprecating NSX-Files, so maybe there are still people that look for racing stories. Let's see how many of you out there will take the time to read a 9000 word longform story about kids sports and karting.
For those of you who don't care about kids sports, simply skip down to the racing section, which is about halfway down this page.
Sidenote 2: Yes, I know the frames used on this website are back from 20 years ago, and I know they aren't smart phone/new fangled browser friendly. But I figure I probably have 7500+ pages of drivel and pictures in the 152 chapters of racing history on this site, so the mere thought of even thinking about converting my amateurish FrontPage 2002 produced-frames-based-content into some sort of standard-based-W3C/CSS-HTML-properly formatted-content seems way too daunting.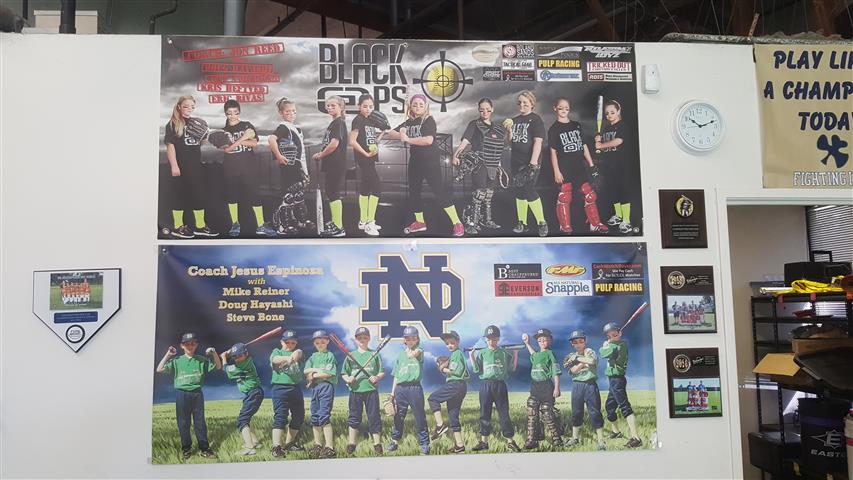 The first set of banners for the softball and baseball teams that the wife made (Click here for bigger)
The Softball/Baseball/Tunnel Story
Well, it all started back when my daughter started playing 8U softball about five years ago, and my son started playing little league baseball. I helped out as an assistant coach on both teams. I was pretty naive about kids sports. My daughter played on an 8U All Star team, and we thought they were pretty good. Until we went out and competed against other cities All Star teams, and we got crushed. Whoa. I didn't realize 8 year olds can be that good. We thought our pitchers were fast throwing about 38-39 mph, and then we face other teams that are shutting us out, with their pitcher throwing bullets at 48 mph. This can't be happening, we have to fix this.
So the my kids' coaches and I went deep, deep into the rabbit hole to become more competitive. Instead of racing cars or shifter karts, Wayne and I started racing our kids and their friends against other teams. Wayne's kids are in different age brackets/leagues/divisions than my kids, but we are basically doing the same thing. Meaning you practice all week with your softball/baseball teams, make a few tweaks here and then, then you go "race your team" against other teams that have the same goal of improving each week and Getting Better. You see what worked, what didn't work, go back to the drawing board and practice the next week where you needed to get better (Hitting? Bunting? Slapping? Outfield defense? Infield defense? Baserunning? Sliding? Safety slides into home? Cutoffs? Hit and Run? Bunt and Run? Slap and run? Squeeze bunts? Run Downs? 1st and 3rd situations? Signs?) and then went out and "raced" against other teams the next weekend. Then repeat the process again, week after week after week, constantly getting a little better. One of my daughters coaches would say, "Work really hard today, and get 1% better. Have some fun as a team. That is all I ask". Not a bad philosophy.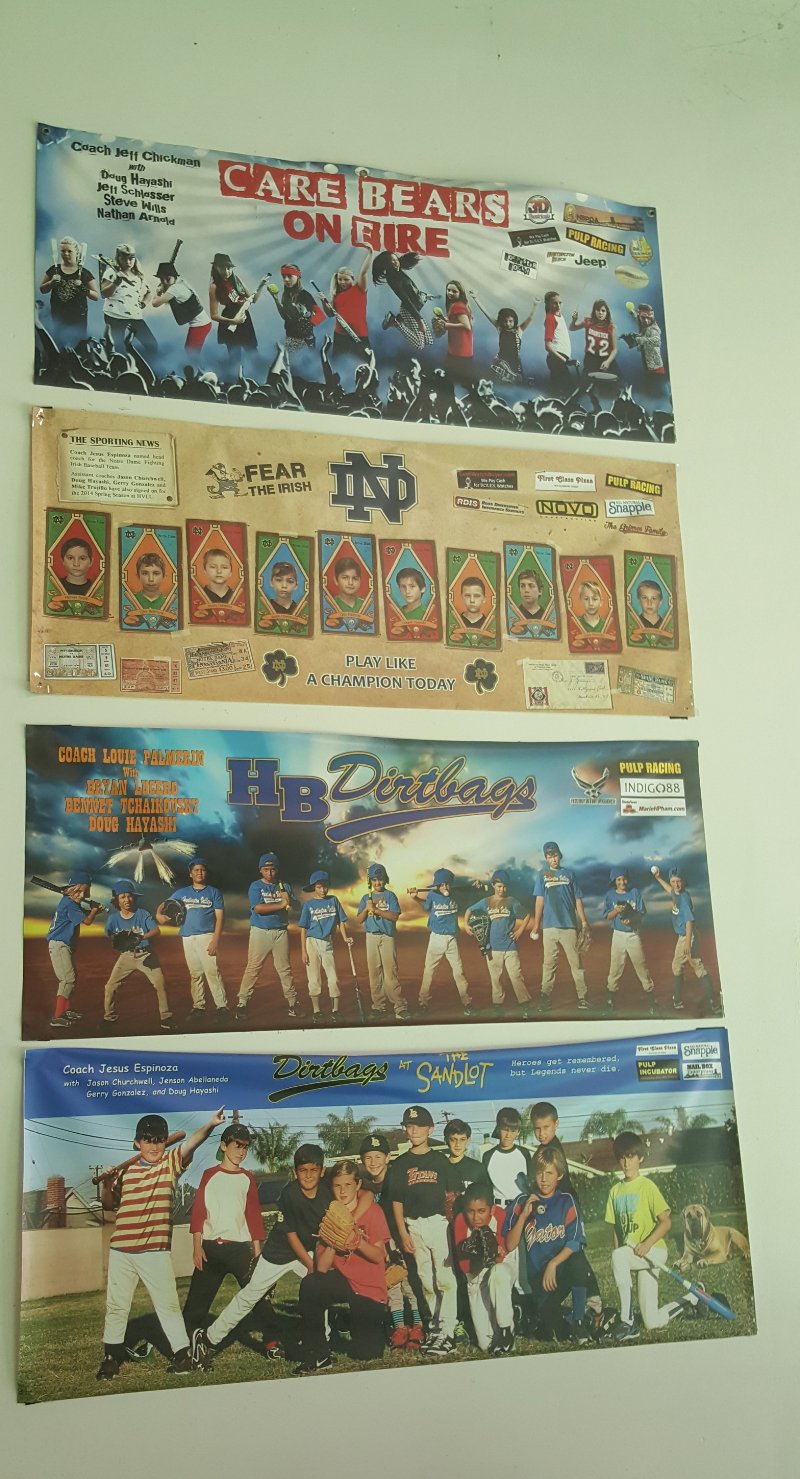 Second set of rec ball banners. Click here for bigger
It got to the point where we came to the conclusion that there is a finite number of resources to make your team better. Meaning that the road block was there were too many teams trying to get access to dirt time on an actual softball field, and most of the indoor places were booked up with people and teams trying to get in. You were at the mercy of trying to unsuccessfully bribe people so your team can practice. During the start of the spring season in January, sometimes you could only get 60 minutes of time per week on the field to train due to daylight savings time. That is ridiculous. The list of things to practice is incredibly long, especially for a recreational softball ball team that could have a few girls that have never played the game before.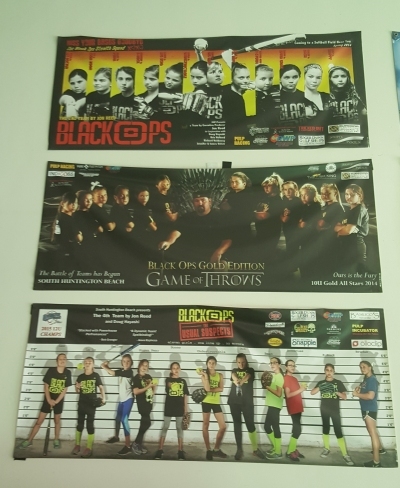 Final set of banners. Parodies of Kill Bill, Game of Thrones, The Usual Suspects. Click here for bigger
One of my daughter's coaches, we'll call him J.R., mentioned that he inherited a couple of softball pitching machines and some balls, but had nowhere to use them. Wayne, his brother, and I happened to have an 11,000 square foot building that was split into 8500 and 2500 square feet. 8500 was rented out to various companies over the years, but the other 2500 square feet was difficult to rent out due to sharing common power/electrical, entry way, etc. Wayne and I planned to start a small business on the 2500 square feet side of the building, but nothing ever panned out. So it was being used to store friend's boats, fork lifts, cars, trailers, etc. But we weren't collecting rent on that side of the building. And then I read the article about Chip Ganassi's secret test lab that he built inside an abandoned turnpike underneath a mountain in Pennsylvania. And then the wheels started turning.....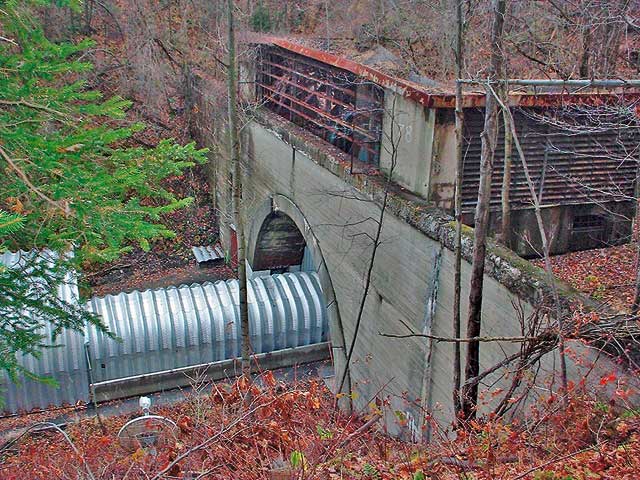 Ganassi's secret Laurel Hill Tunnel
You see, Chip Ganassi had a similar problem: He wanted to do a lot of aerodynamic testing of his cars to make his cars faster than the competition, and couldn't really get access to sophisticated wind tunnels for his Indy/NASCAR racecars. And even in a wind tunnel, you only simulate stuff, you don't know what really happens on a racecar at high speed. This is a huge road block. He realized he needed a secret tunnel. And he was also a Cheating Bastard, he wouldn't tell anyone about it. Everyone who worked there was sworn to secrecy, so other teams wouldn't figure out how Ganassi's teams were winning championships in both Indy Car and NASCAR. Secrecy also insured that racing officials couldn't ban his tunnel as an unfair advantage, and he probably wouldn't have to worry about any crazy permits to build/modify the tunnel.
Chip Ganassi's secret test tunnel UPDATE #6 First discovered by AutoRacing1.com back in 2006, Ganassi first used the Laurel Hill Tunnel for testing in 2004 to develop the G-Force chassis for the Izod IndyCar Series.
"It's not a secret [anymore]," Ganassi tells AutoWeek. "It's not incumbent upon me to publicize how we test, but it isn't a secret.
"Even if you rent a scale-model rolling road, the models for cars in three different series [IndyCar, NASCAR and Grand-Am] get expensive, and we were getting the most success out of our straight-line [aero] program. My engineers told me, 'We need a drag strip—let's buy an old drag strip or air strip, and if there is still budget we'll build some walls, and if there's more budget we'll put a roof on.' I asked if a tunnel would work and they said, 'maybe better.' And I said, 'Good, because I know where there's a tunnel, so let's see if we can get that.'
"You can work 365 days without worrying about weather, noise or changing conditions," Ganassi continues. "You build the real piece, not a model. Every team has a tunnel. Ours is just different, maybe more unique. It's the real thing because the heat is in the right places. The temperatures are real, not calculated or simulated."
Does he own Laurel Hill or lease it from the Pennsylvania Turnpike Commission, or what?
"I'm not sure that's any of your business," he answers. "I control the tunnel and make it available to other enterprises that can benefit from it."
And what about the rumor that he's snagging more abandoned turnpike tunnels to keep competitors from getting them?
"Sheesh. . . . I don't have any more tunnels or plans to get them." AutoWeek
From Road and Track:
According to Manning, in addition to the standard aerodynamic information, the tunnel provided data that's all but impossible to obtain in a scale-model tunnel. High on the list are the effects of deforming bodywork. At speed, the wings and engine covers naturally flex, but by how much? How do those bits interact? And is there a way to maximize that movement and make it an advantage? "You have to remember," he said, "that the cars are all extremely close. Five pounds less drag or 20 pounds more downforce has a huge cumulative effect over the course of a race. Those piddly little things add up."
So after reading the articles about the Ganassi Tunnel, I realized that I need to build the Pulp Tunnel help to train my daughter's softball teams, my son's little league teams, and Wayne's kids softball and baseball teams. We started by clearing out 2500 square feet of junk on the other side of the building.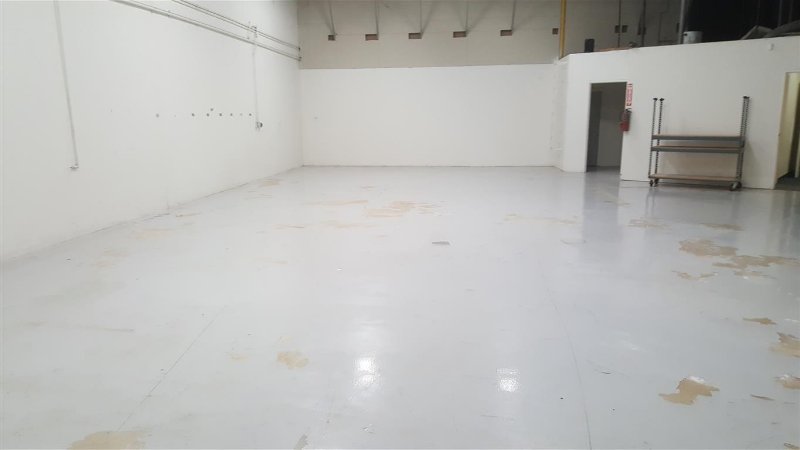 Do you see the possibilities?
I installed indoor turf, good lighting, netting with pulleys on it to configure different size batting cages/fielding areas. It became an obsession, soon it was filled with pitching mounds for both softball and baseball, 6 different pitching machines, (Zooka, Lite Flight, Jugs, Hack Attack, Hack Attack Jr, etc), some with autofeeders, about 1500 balls (softballs, hard balls, tennis balls, dimple balls, foam balls, golf ball size balls, big wiffles, small wiffles, heavy balls, batting cage balls, medicine balls, etc), big screen TV, RightView Pro camera setup to compare the kids swings and pitching motions to various professional players. Bases, cones, ladders for running, kettle bells, sliding pad, etc. For what it costs to buy a new kart chassis and practice/prep/race at one Supernationals race, you can pretty much build out your own indoor training center that you can use 365 days a year, for many years. Softball can be expensive, but it is still WAY cheaper than racing.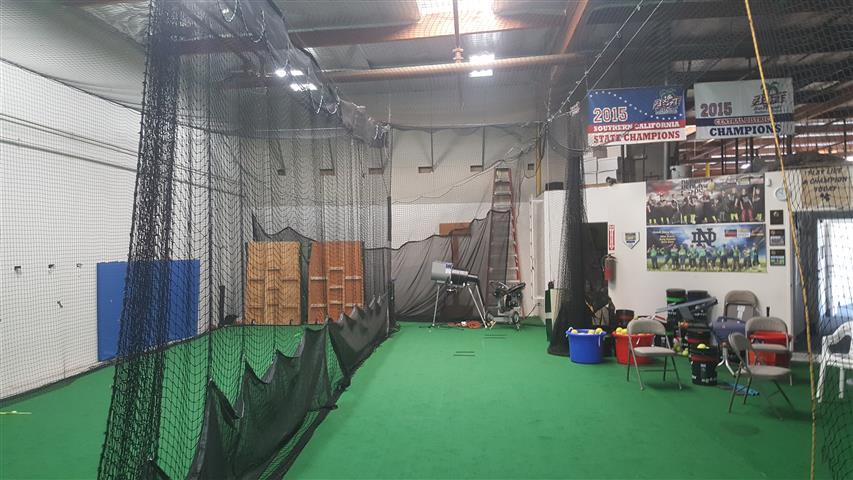 Nets on pulleys, so you could make one big cage or two small cages. Click here for bigger
Starting back in 2012, I would video tape every game using a GoPro, then I would edit out all the dead spots so the coaches and I can re-watch the entire game in about 13 minutes, pitch-by-pitch. Then the coaches would review the game, and then I would create an "areas to improve/highlights" clips that we can show the players how to Get Better. We would watch this video at the Tunnel on the big screen TV before we started practicing. If we ever had to play a team a second time, the coaches would review the video tape and figure how to to pitch to their batters depending on how they hit against us, where they would stand in the box, how good their swing was. We would review their pitchers and figure out how to best prepare our team to hit them. Maybe it is overkill for kids 9, 10, 11, and 12 years old? Hardly. We simply refocused all our racing efforts, time, and energy into kids sports. If you are going to do it, don't do it half assed! Apply a little science, a little worth ethic, and then measure your results.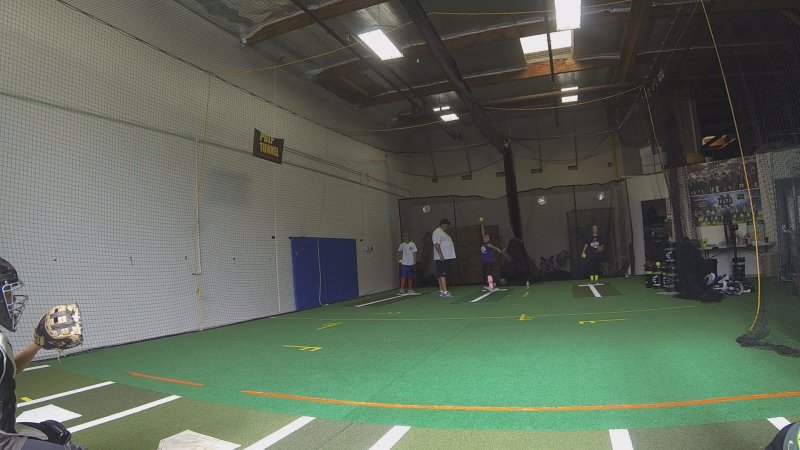 Could have up to 4 pitchers throwing at the same time. Click here for bigger
We brought in a coach that has won multiple 18U PGF National Championships (four in a row!) to run clinics at the tunnel for our teams. We had Olympian Kerri Walsh's trainer at OCFastTwitch coming in once a week to do speed and performance training for the team, that way we didn't waste time driving twelve kids to their facility. Right after batting practice, they would go right into Fast Twitch training.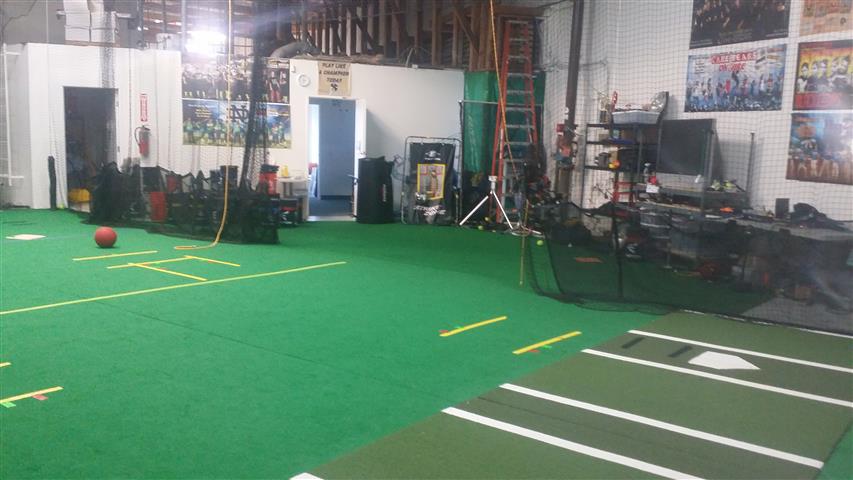 Another view of the Tunnel. Nets on pulleys so you can expand the area
We didn't charge anything for our kids' teammates to practice there, but we made them swear to secrecy about the tunnel, so we would not have to deal with any league officials, city officials, etc, that might want to ban the tunnel due to whatever weird reason they could try to dream up. (Unfair advantage? No insurance? No permit? No Licensing? Not enough parking spaces?) Best of all, we could practice in there whenever we wanted. Right after school? Late at night? Early in the morning? Weekends? When it is raining? Didn't matter, we controlled the schedule. Whenever a new rec ball team was created (new one each season), and the kids came to the Tunnel for their first practice, their eyes would light up. WOW! I get to practice HERE? And then their parents would say, "For FREE? Awesome!". The only stipulation was secrecy, meaning no pictures, no Facebook, no social media.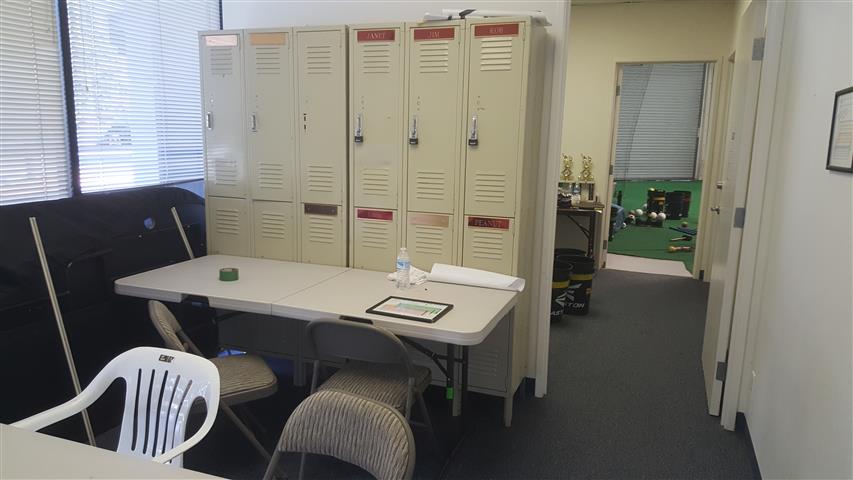 Study area. Kids could do homework while they were waiting their turn to hit or pitch
It was great fun. I was in there probably 4-5 days a week, and Wayne was in there 2-3 days a week practicing with his kids and their teams. There were some weeks where I would use my rubber arm and throw 2000 pitches of live batting practice, both fastpitch softball underhand and hardball baseball overhand. We would practice during the week, and then have games on Saturdays and Sundays. There was no possible time to even think about racing karts.
When it was time for the draft for my daughters 10U and 12U rec ball teams, her head coach and I would spend 2-3 days analyzing the draft. Meaning if you a total of 5 or 6 teams, the softball league would have a draft to try to even out all the teams. It may sound like a simple thing, but there is a ton of strategy involved, and when the draft meeting starts, it goes very quickly so you have to be prepared way in advance, no hemming or hawing at the actual draft. For example, first you have a pitching draft, 2 rounds, so every team can get two pitchers. Head coaches pick a number out of a hat to see what order they pick, and it snakes around when you get to the end. So, if you have 6 coaches, the order would go 1 2 3 4 5 6, then 6 picks again, then 5 4 3 2 1. Each team needs at least two pitchers, because you are required to throw 2 pitchers each game (encourages pitcher development). Most coaches daughters are pitchers, so that means one of their two pitching picks is a given.
Then you have another draft for your non pitchers, so you pick out of a hat again, and you draft in the order of 1 2 3 4 5 6 6 5 4 3 2 1 1 2 3 4 5 6 , etc, until all players are picked. So the best way to figure out the draft is how the pros do it, meaning you gotta do mock drafts. You go through many, many permutations of drafts, figuring out who other coaches would pick, who they would not pick due to parent/personality issues, what person they would need on their team, what person we needed on our team, car pool issues, what positional player they would pick up next based on their prior pick, etc. So you do a day or two of mock drafts to figure out your strategy, and then some strategy becomes apparent, you see where you can game the system. For example, some years we figured out that we could pick a number 1 catcher in the pitching round before anyone else did, and we could probably get our second pitcher in the regular draft because we believed no one would pick who we saw as our number 2 pitcher in the pitching round, but we could scoop everyone and grab a great catcher. It then cascades, because once you have the number 1 catcher in the league, then the other teams are scrambling to get a catcher, and now you are in a position to grab the best shortstop with your next pick. That move had other coaches grimacing when they realized they never thought of picking up a catcher in the pitching round. We had scenarios of who we would pick if we drew the first pick and coach B had the second pick, or if we drew the middle pick, or if we had the 6th pick and Coach C had the next two picks because they were the 6th pick gets to pick twice. If you really did your homework, you could figure out the proper strategy to get up to 8 of the 11 kids you wanted to pick up in the draft based on skill/parents/positions/what other people were anticipated to pick. I am not saying you can get the top 8 kids in the draft, but you can get the best kid in Each Round of the draft in terms of skill/personality if you stay one round ahead of the competition. But it takes 24 hours of mock drafts and strategizing to do that.

Rotation: Tee, then soft toss, then hit off of machine while getting video taped, then to Just Dance
(note, to go full screen, click on "YouTube" button in lower right corner)

More serious hitting session

Comparing 11 year old swing to an Olympic player using RightView Pro

Comparing pitching motion of an 11 year old to an Pro Softball player

Some highlights from a typical day of softball when things are going good
My son's team won the local Tournament of Champions one year using the tunnel as their training facility. We would setup two hitting stations outside in the gated area with Bownets, and inside we would have two batting cages used for batting practice against live pitchers or pitching machines. Pitchers would show up 30 minutes early and pitch off of raised pitching mounds before batting practice. Part of the netting was on pulleys, so we could open it up to a 45x24 fielding area, or if we opened up the rollup door, they could make 80 foot throws.
My daughter's 12U Silver All Star rec ball team used the Pulp Tunnel to successfully to go something like 30-2, winning almost every local tournament we entered. We then went undefeated in the district championship, the state championship, and the regional championship in San Diego were they went 3-0, scoring 40 runs and allowing no runs until it got rained out. ASA said they could not reschedule the tournament, thus they had no winner crowned, which was a bummer for us. That was the first time I had ever experienced being a member of "The Team that Everyone Fears". Some of the parents on our team would hear parents on the other team talking, "Oh man...we gotta play THAT TEAM?" It was glorious. We've all probably experienced it from the other side, when you or your kids go up against a team that is seemingly invincible. It reminds me of the 2006 PKC karting season when a young Nick Halen came in and destroyed the field at every single race.
You wonder how these other teams turned into powerhouses. Well, they probably had access to coaches that put in a lot of extra time training the team, had mentoring from great coaches, had speed and performance training, and had access to an indoor tunnel, used video analysis, etc.
In my daughter's second year of 12U, most of her rec ball team went to the same travel ball team. Our goal was to qualify for the prestigious 12U Premier Girls Fastpitch (PGF) National Championship, but we fell short of this goal. We got within a couple of games of making it happen, as 12U Travel ball is crazy competitive. Pretty much all good teams at this level in travel ball in Southern California have access to good coaches, mentoring from great coaches, speed and performance training, access to indoor facilities, and usually you don't have the same group of girls that grew up together on a rec ball team like our team. Instead, these other teams have tryouts and they get the best possible kid at every position in order to make their championship run at the PGF National Championship hosted two miles from my house in Huntington Beach. Same fields where Wayne and I play softball every Wednesday night on our coed team (that is trying to uhhh..age gracefully). I've even heard that some elite 14U travel teams pay for players, meaning that instead of having to pay the $120 - $250 a month dues, a superstar player can get the dues/tournament fees/travel costs waived if they are good enough, just so a coach could try to stack a team to make a championship run.
In September 2016, Wayne and I sold the building that the tunnel was housed in, so the Pulp Tunnel (the softball side, not the race shop) was officially closed down. My daughter is in her first year of 14U now, and on a different team, and this is the first year in six years that I am not involved with the coaching staff. Which means I can hopefully get out now and then for a kart race. The goal for her current team is to get better, have a lot of fun, and hopefully qualify to play in big tournaments like TCS World Series,. Next year, in her second year of 14U, they will probably make a more serious run to qualify for the PGF National Championship, which seems to be the crown jewel in the travel softball world.
The NSX is still on lift. It still starts up.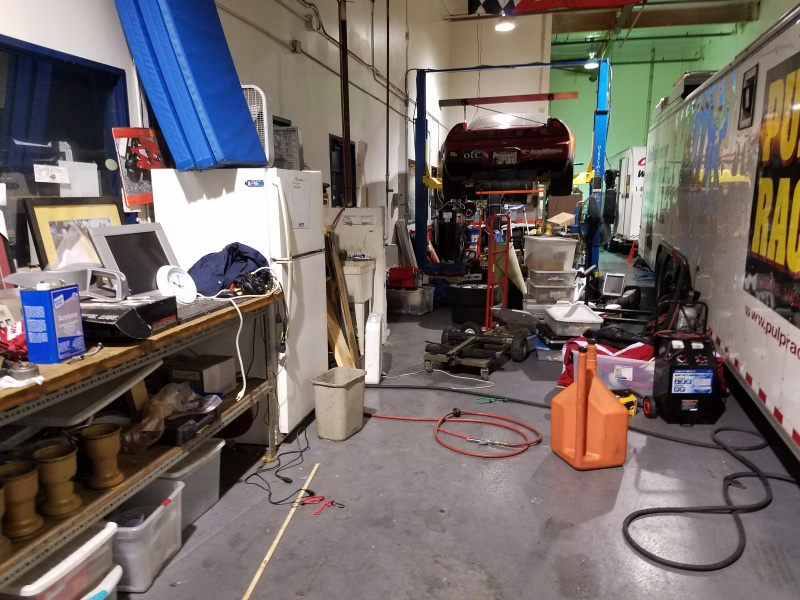 The shop usually isn't this messy, but lots of thrashing on karts and jeeps lately
John Dearing's hot dog is still tie wrapped to the bumper where the Flamemobile caught fire from the fuel leak about 12 years ago. A testament to how well hot dogs can age I guess.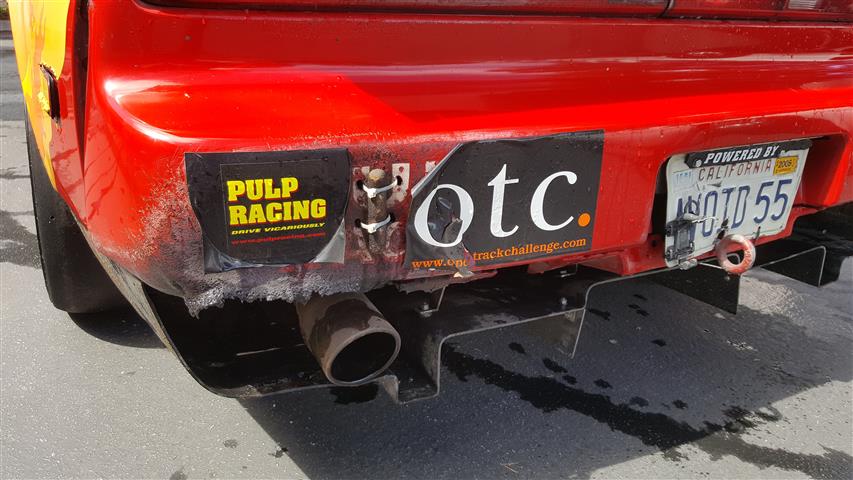 Wayne now owns and maintains more motor vehicles than anyone I know. He still has the 360. A few years ago, he bought a bright blue EVO 8 from a female friend of ours who never beat on it, so Wayne couldn't resists picking that up. He's got a truck. He's got a "beater jeep" for his lake house out by Barstow. Along with Amy's car. And at the lake house he picked up a bunch of stuff from Craiglist, like about 8 motorcycles, two quads, jet ski, 4 wheel drive sand machine, etc. that he tries to frantically keep running all the time. Along with his shifter kart, and his two son's karts. And he just bought another beater Jeep. So that is like 20 vehicles he is trying to maintain.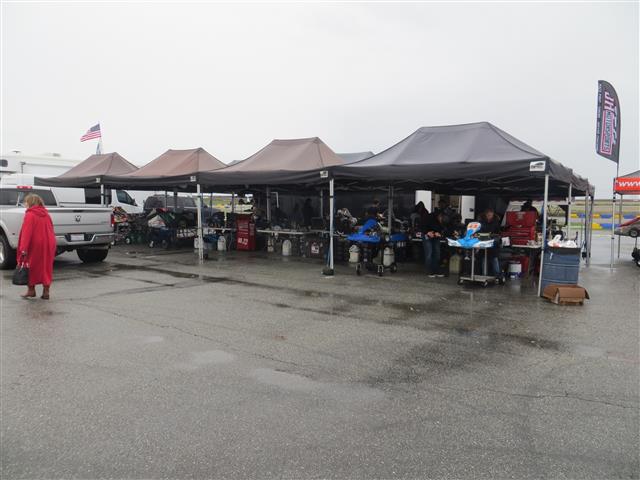 Tent setups considerably bigger than they were 6 years ago (bigger)
I've been going out karting a few times a year. It's hard to schedule with all the kid activities. Jeff has been wanting to go out and kart more, but his kids are older, and he and his wife don't have to shuttle them around everywhere. The problem is that all the karting stuff is in the 48 foot trailer, and no one wants to tow that except for me, but I am usually busy on weekends.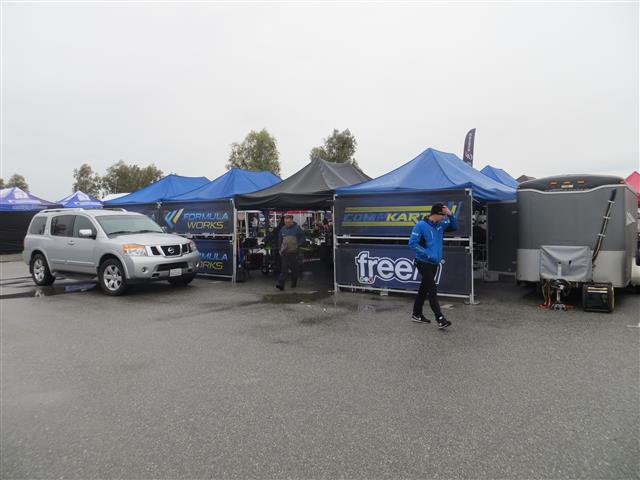 Comp Kart (bigger)
There is a bunch of used turf/netting/cables/turnbuckles from the tearing down of the Pulp Tunnel that is in the smaller trailer at the moment. The turf is heavy, probably about 1200 lbs of turf. Wayne and I have discussed selling both trailers and getting a 26 foot trailer that would be easy for anyone to tow. But then the last time we went to the kart track, we completely filled up the 48 foot trailer with six shifter karts, two kid karts, and all the spares. Anybody out there interested in trading up to a 48 foot trailer?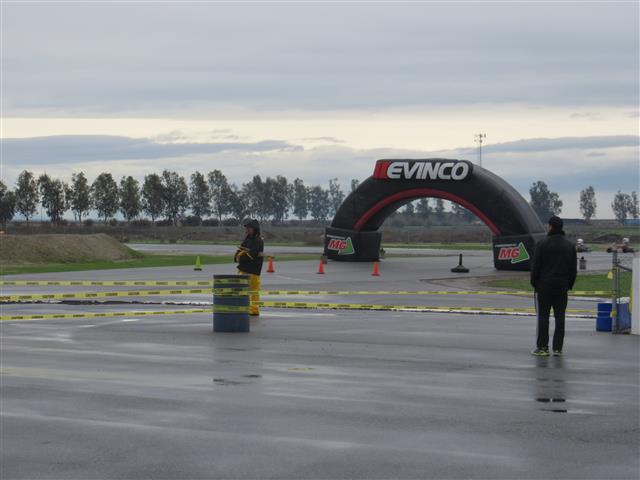 Spec tires by Evinco
Music Flashback:
June 5, 2016. Gogol Bordello is playing a small club in New Orleans call the Joy Theatre, and they got Frank Turner and the Sleeping Souls opening for them. Holy crap! Gogol Bordello is killing it in small clubs, and Frank Turner is selling out the O2/Manchester huge arenas over in England. The wife and I fly out to Bourbon Street with some friends to check out a kick ass double bill. Gogol and Frank both playing in a club that has standing room for only 1200 people! Frank Turner is currently on a mission to conquer America, and has recently performed his 2000th live concert. He and his band tour relentlessly, performing at 192 live concerts in 2016.
"I want bands who had to work for their keep,
Drove a thousand miles and played a show on no sleep,
Sleeping on the floor in a stranger's place,
Hungry just to do it all again the next day"
----Four Simple Words by Frank Turner
August 5th, 2016. Frank Turner and the Sleeping Souls headlining show #1942 at the Observatory here in Santa Ana. They are killing it.
January 28th, 2017. Frank and the band play show #2014 at the Wiltern in Los Angeles. I'm in the pit 3 feet from the stage! It's like being in a race, and you are winning the entire time!
Back to Karting
Early November, 2016
Jeff decides to leave his two karts with 2Wild Karting, as they seem to go out at least once a week and provide arrive and drive service. 2Wild has anywhere from 7-12 drivers that they are supporting at practice days and race days. Jeff's daughter likes driving the shifter karts, so she comes out quite frequently to practice with Jeff. The Go-Fast gene hasn't kicked in with my kids yet.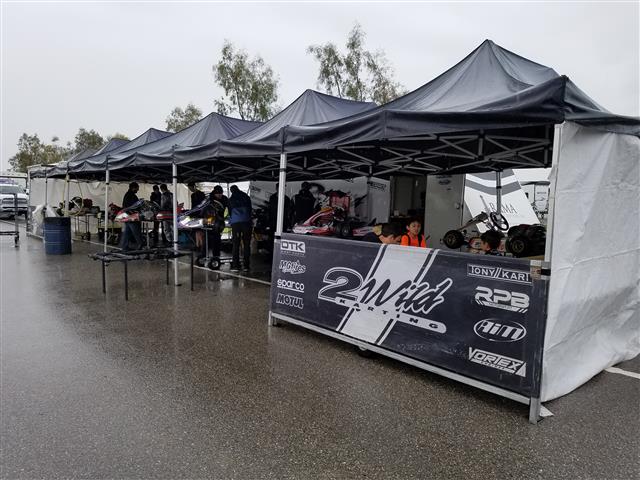 2Wild has a nice tent setup for its customers (Bigger)
November 29th, 2016
Prokart schedule for 2017 is released.
Round 1 February 10-11 Buttonwillow
Round 2 March 31-April 1 Streets of Willow
Round 3 June 2-3 Calspeed
Round 4 July 7-8 Santa Maria
Round 5 September 1-2 Monterey
Round 6 Sept 30-Oct 1 Streets of Lancaster GP
Interesting. ProKart has the S4 class, which is for people over 30 years old, but last year they implemented an S4 "Super Masters" class, basically for people over the age of 45. That way the older guys don't have to compete against the ex-SuperPro guys that are aging into the over 30 years old class.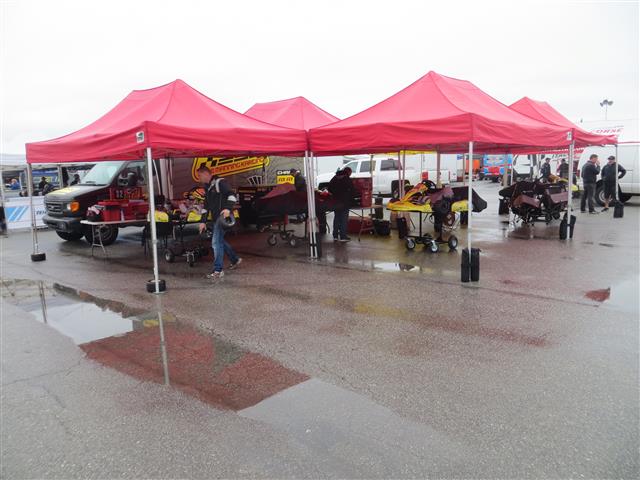 Mike Manning Karting (bigger)
The PKC schedule looks good, they also include Streets of Willow Springs as race number 2, which is one of our favorite tracks for a kart. Hitting 102 mph in a go kart is pretty thrilling. Buttonwillow is a good track, Cal Speed is close by, Santa Maria far away but a cool track, Monterey is just so so, and Streets of Lancaster is a very exciting race, as you feel like you are constantly on the edge of crashing. I tell Jeff that if we pay 2Wildkarting to do the arrive and drive, I am in for at least the first two races. Wayne says he is in the for Streets of Willow. Jeff wants to run the full schedule, but isn't sure if his neck can handle Cal Speed. I start plotting my schedule to get ready for the race.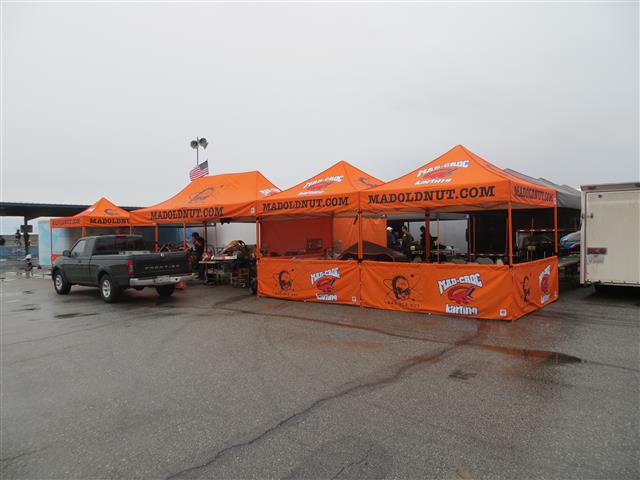 Mad Old Nut setup (bigger)
Wayne and I still go to the gym a couple of times a week, and we still play on our coed softball team on Wednesday nights. I've been playing in the Huntington Beach leagues since 1985 or so, so that is 32 years. I started the Wednesday night team back in 1990. When I can't make the diving play at third or shortstop, or I can't hobble around the bases, or I can't fit into my baseball pants, then I know my fitness is way off and I have to do something. I'm in shape for softball, but not for karting. Need to make some adjustments.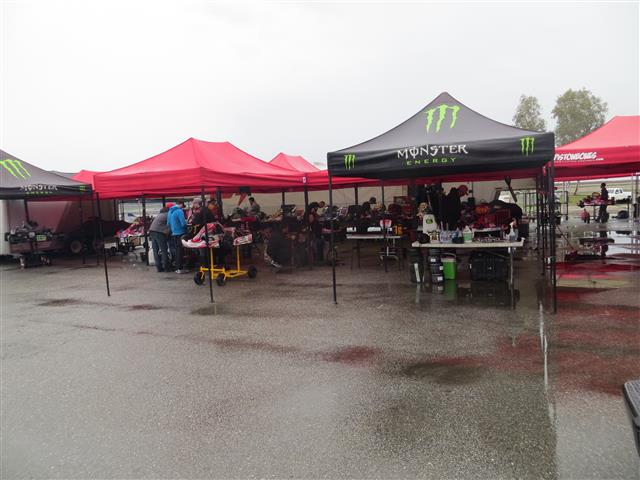 Monster/Pistonbones setup (bigger)
December 15, 2016
The day before the kids get out for Christmas vacation. I plan on hitting the gym almost every day during the Christmas break, as well as riding a bike. I figure I try to get in two full days of testing at Buttonwillow over the winter break, plus a day or two at Calspeed, focusing on trying to drive 20-25 consecutive laps in a shifter kart. But then on this day, I come down with a hacking cough. No fever, but a miserable cough. and it persists. I can barely make it down the stairs without coughing. I usually don't get sick, but this is starting to kick my ass.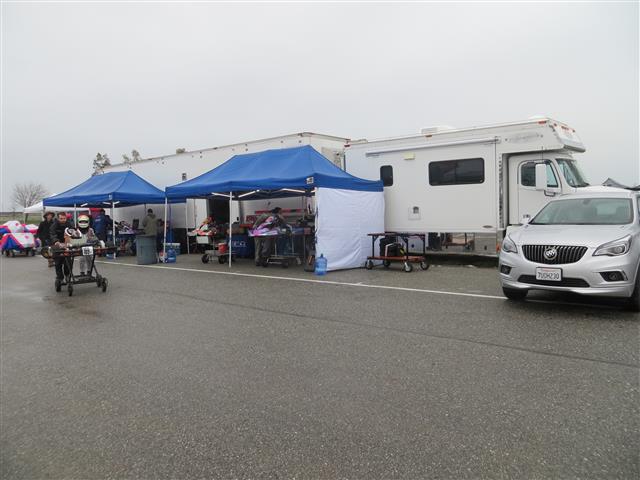 Not your average trailer (bigger)
December 22, 2016
A week has gone by. I am almost over the cough. But I can't do any physical exercise due to coughing
December 29, 2016
Two weeks. Still hacking. But I think I am getting better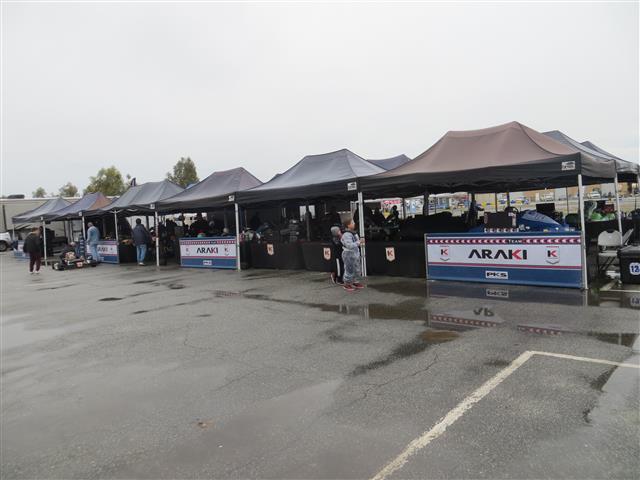 Araki Tent (bigger)
January 5, 2017
Three weeks. Still hacking. Still can't even go to the gym. I've watched all the A level shows, such as Sherlock. Goliath. Stranger Things. Went to B/C/D level shows like Broadchurch, The Fall, Case, Department Q, the Asset, Detectorist, Marcella, etc.
Jan 12, 2017
Four weeks. still hacking.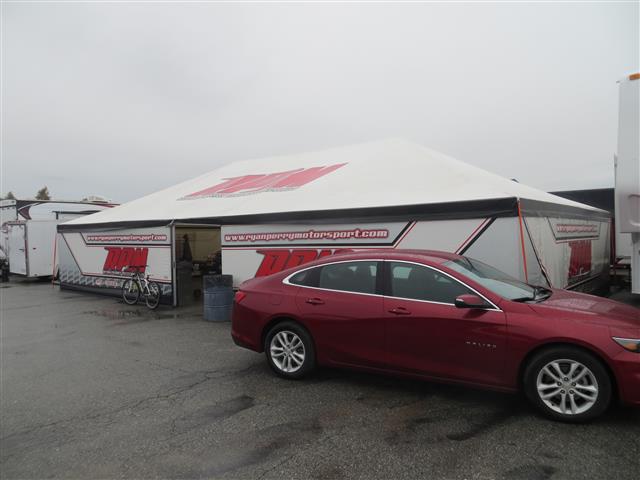 Classy looking tent (bigger)
Jan 16, 2017
I give up, I go to Urgent Care, and get a Z-Pack antibiotic.
January 22, 2017
Actually can almost make it through the day without hacking up a lung. In the future, if I am coughing more than 3 days in a row, I'm going to Urgent Care to get a Z-pack. I lost a month of my life due to coughing.

Rumor has it that 120+ people are at Buttonwillow on Saturday, getting testing in for the Prokart race in 3 weeks. Crap, I haven't even touched my kart yet, and other people already have multiple test days under their belt.

Jan 26, 2017
Okay, life is back to normal. Time to start getting back to the gym, get the fitness up, work on kart. Move kart into the garage at the house. Should be easy, right? Except Wayne has bought a 1959 Jeep that doesn't run, engine is locked up. Got it real cheap. It is inside the Pulp Racing shop, blocking the entry way in such a way that I can't move the big trailer, and I can't move my kart out of the shop. Should be easy to move, right? Except Jeep has a flat tire.

1959 Jeep that Wayne bought. Brent helping with transportation
I get the air hose which is connected to the big ass shop air compressor, but there is no air in it. Compressor is broken. Oh great. After inspection, turns out the compressor fan belt is broken. Now I have to find an air compressor belt, to fix the air compressor, to fix the tire on the Jeep that won't move, so I can just get my damn kart out of the shop. I hit up Home Depot, they don't have a belt, but O'Reilly Auto Parts says they can have a belt there at their store in 3 hours. Nice. After a total of six hours after I decide to move my kart, I actually move my kart from point A to Point B. Now, I gotta put the 30-40 hours of prep in to get the kart ready.
January 27, 2017
Okay, I got extra light stands, propane heater, 3 tables, and a trashed garage at my house trying to get my kart ready. Turns out this is going to take a little more time and effort than expected. Over the course of five days, I need to install the following:
1. New "SKUSA Approved" exhaust pipe, to comply with regulations. Apparently something was wrong with old spec pipe??
2. New clutch cable. Because old cable was a little sticky
3. New throttle cable. Because old cable was old
4. Remove all the sticker panels on the kart, replace with new decal kit so the kart doesn't look 8 years old.
5. Had to buy new number panels, apparently someone took my old 55c kart number. C'mon, it's only been six years, they couldn't reserve my number longer?
6. Put new reeds in.
7. Helmet is out of spec, have to get a new SA2015 helmet
8. Add about 35 lbs of lead to equalize the weight at 415 lbs with me in it.
9. I put the kart on the racing scales, and it appears the kart frame is bent, so Wayne comes over and jumps on the kart to get it better "bent". Now it scales pretty good front to back, left to right, and cross weight.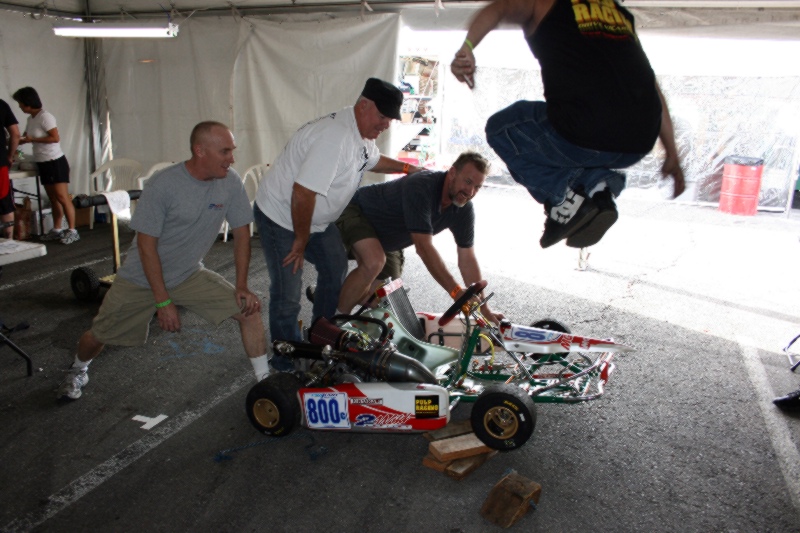 I needed Wayne to do something similar to this to try to re-bend my kart to be sorta straight
10. Needs new air filter.
11. Change gearing
12. New chain
13. Bleed brakes
14. Change transmission fluid
15. Put new top end in (piston/ring/etc)
16. Change batteries in Mychron
17. Remount transponder to new legal position
18. Mount "legal" Go Pro mount for the SKUSA series
19. Add some liquid fiberglass to the seat to make sure it doesn't crack through the bottom
20. Laser align kart
21. Swap axle out for an axle of different stiffness (per my notes for Buttonwillow)
22. Etc. Now you see the rathole I fell into.....
Luckily for me, I had most the parts above in our spares kit in our trailer except for the pipe and helmet.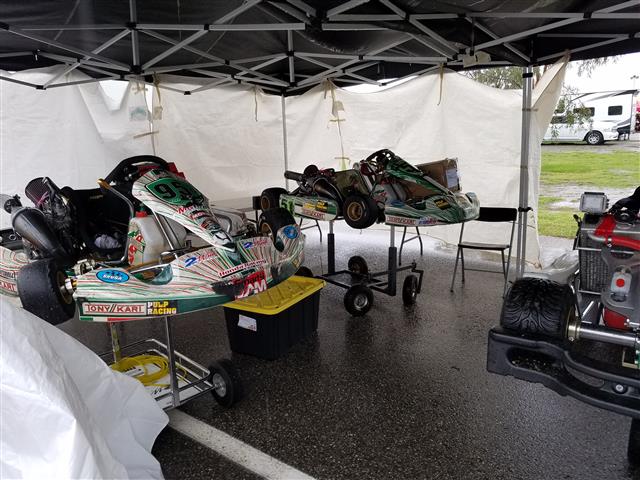 Jeff's kart and my kart ready to roll...on a dry track (Bigger)
Friday, February 3rd
Test kart at Calspeed. The race is only 8 days away. Not as good as testing at Buttonwillow, but it is 120 miles closer. However, wunderground.com says rain, but the rain isn't going to hit until 10:30 a.m. Track opens at 9 a.m. so if I show up on time, and can roll my kart off my truck bed and get on the track immediately without screwing around with the kart, I can get 90 minutes of testing in. Wayne shows up to help me. Kart seems to be pretty good, but doesn't stop very good due to the extra 35 lbs of lead I have to mount to the kart seat to get it to scale at 415 lbs. It went from feeling like a kart to a street car with bad brakes under heaving braking. Gonna have to put on new brake pads. Strangely, it does pop out of gear sometimes in the high g sweeper turn. Wayne helps tighten J-arm shifting mechanism, hopefully that was the problem. I also do a bunch of standing starts, with Wayne acting as the flagger. Rain comes in promptly at 10:30 with some sprinkles that make the track undrivable with slicks. I deem the 90 minute test day pretty good, because at least I know the brakes need some fixing, we got clutch cable adjusted for starts, and we had a chance to tighten the shifter j-arm, hopefully that fixes the problem.
Later that night, we find out that 2Wild is going testing on Superbowl Sunday at Buttonwillow for people that need another testing day. Hummm....I haven't driven at Buttonwillow in 6 years, maybe that would be a good idea. Jeff says he is going, and our plan is to get there at 9 a.m., test for 2 hours, then bail home to watch the Superbowl.
Sunday, Feb 5th, Superbowl Sunday
We drive 175 miles out to Buttonwillow Raceway, leaving my house at 5:20 a.m. Buttonwillow is apparently planning on building a second track for cars there, and they would have the ability to combine the two tracks, making for a 5 mile road course. Our testing session starts late, more like 9:30. Jeff's neck has been hurting him since he flipped his kart at Calspeed many years ago. He still can't drive Calspeed for long periods of time due to the high g-loads of the track, but he seems to be okay at tracks like Perris and Buttonwillow. Our testing session is rushed. I'm running about 50.50, Jeff is running a 51.00, and thinks something is wrong with his kart. At the end of our 2 hour session, we have Ryon from 2Wild hop into Jeff's kart, and he promptly cranks out a 49.50, thus making us scratch our heads. Do we suck that much? Jeff is a full 1.5 seconds off of Ryon. Or has Ryon gotten that much better? Wasn't he just a kid a little while ago? But then again, Ryon took 2nd place in the S1 Pro class championship just a couple of years ago......none of us Pulp Drivers ever got invited to move up to the Pro Class.....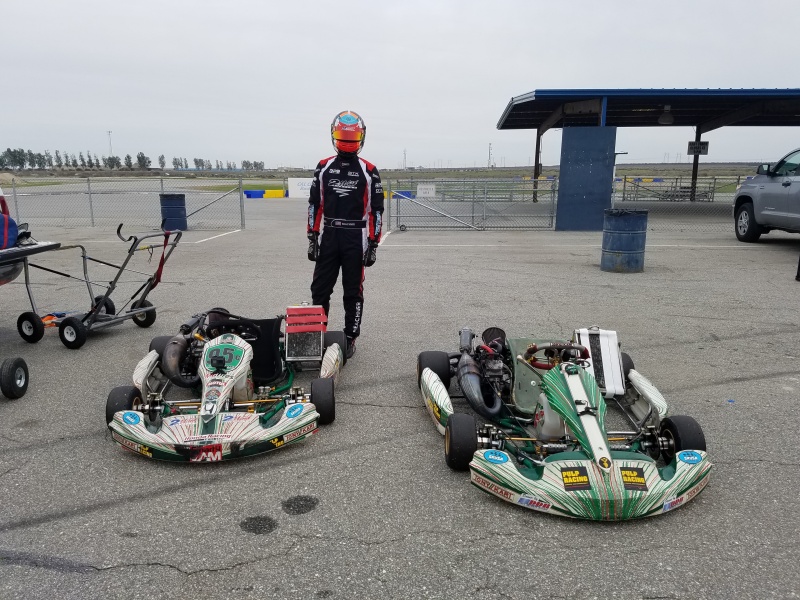 Our new Stig

Ryon hops into my kart, goes same speed as I do with a 50.49, but says my kart sucks, front grip isn't there like it should be, and questions the setup of the kart. Hummm...from my notes at the last time I was at Buttonwillow, where I think I was on the podium in 3rd, my kart is setup with the same axle, gearing, camber/caster settings. But, the good thing about racing, there is no indecision. There is no obfuscation of the facts. If a guy goes a second faster in another kart (Jeff's), something must be wrong with my kart. We don't have enough time to do a fully figure out what we need to do to go faster, but I figure we ponder what to do over the four days, and then on the Friday Feb 9th practice day, we redial everything we know back into the kart to make it fast. Hopefully then we will be ready for the actual race happening on the next day, Saturday.
Tuesday, February 7
Crap. Looks like rain on Friday, the PKC official practice day. This screws everything up. Only 40% chance of rain on Saturday, the actual race day. I won't get my dry test day in that I desperately need. To setup the kart to perform at its best in the rain is a pain in the ass, and you don't want to setup it up for rain on Friday only to have it not rain on Saturday. Plus people spin and crash in the rain, you go flying off in the mud, etc.
Possible rain setup:
- check front toe out
- raise chassis at the front
- increase caster
- move front track out as much as possible
- raise seat (in case of heavy rain, 20-30mm.)
- move rear track in
- mount type "N" rear axle
- loosen rear bumper and the rear bumper bar
- loosen the middle axle bearing
- loosen or remove the extra seat supports
Wednesday, February 8th
Back to shop dismount old rain tires on the rain rims (Bridgestone, non-PKC approved tires) and remount MG Rain tires (PKC approved tires). Just in case it rains on Saturday.
I've been informed that after almost 7 years of inactivity, Team ARG has apparently stopped doing actual physical racing, but now bench races regularly with gossip, rumors, innuendo on Facebook as "Kart Paparazzi". Think of it as the TMZ.com of karting. Updates seemingly pop up every couple of hours, 7 days a week, stirring up the pot among us local karters.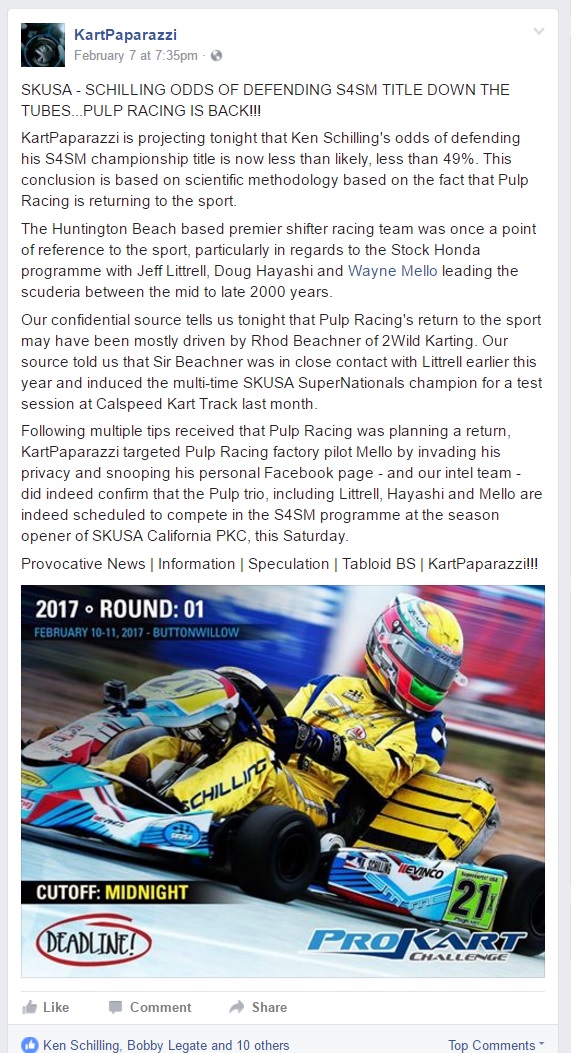 Kart Paparazzi on Facebook making Pulp Racing sound bigger than we actually are!
Friday, Feb 10 Rain day
I cruise into Buttonwillow at 11:30 a.m., the place is packed with karters at the kart track, and Cal Club running on the car track. Virtually all the parking spaces are taken up, which I have never seen before at Buttonwillow. Jeff opts to drive up Saturday morning, to save his neck muscles for the race day.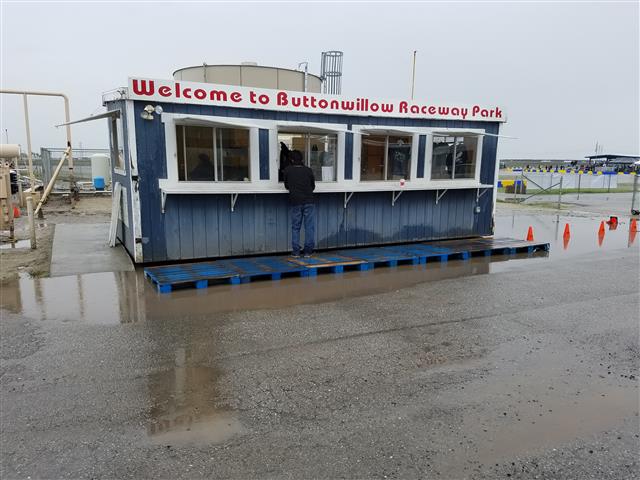 A little wet at check in
The rain never lets up. This sucks. Now down to 15 to 20% chance of rain tomorrow. Some people roll the dice and do some rain practice. Some of them crap out and wipe out, ending up in the mud, with their kart and body COMPLETELY COVERED IN MUD like it was poured from a 40 gallon drum onto the top of their head. They put on the back of a flatbed emergency vehicle, brought over to an area where there is a garden hose, and driver and kart get squirted for about 5 minutes to get the mud off. I opt to not run the kart in the rain, betting it will be dry tomorrow. No use jacking up my kart if it is not going to rain on the official race day. Jeff is hoping for rain tomorrow, as he always does well in the rain.
Saturday, February 11, Race day
The Motel 6 in Buttonwillow hasn't changed since the last time I was here in 2011. I mean, it seemingly has the same rug, the same bedcovers, the same sheets with the cigarette holes in it, and smells like someone tried to rebuild a transmission in it. It even has the same old tube style TV, except on this occasion, the TV doesn't even power up. The $5 wifi from the hotel is slower than my Verizon hot spot on my phone. You would think that someone would build a decent hotel in Buttonwillow to cater to the racers that want to stay in at least a 1 star motel.

Motel 6 Buttonwillow: Apparently nothing has changed in 6 years. TV no workee.
I get up at 5:10 a.m., take a shower, eat my Cherrios and Cocoa Krispies and a banana, and I'm off to fill up the truck with diesel and then to the track. I like getting to the track before everyone else, so I am there at 6:20 a.m., setting up my pit area with tools etc. 2Wild rolls in shortly after that, and unpacks the trailer.
Practice 1 - 7 minutes
Track is still pretty damp, and we are on slicks, so I am out there taking it easy, as I don't want to crash and then forced to thrash on the kart to get it ready for qualifying. The run groups before us are running about 20 seconds slower than normal due to the rain, so this session will be more to just make sure motor is working, new brake pads are stopping the kart in a straight line, and nothing falls off the kart.
Qualifying - 7 minutes
Track is still not perfectly dry. S4 and S4 Super Masters are in the same run group, with the S4SM drivers carrying an additional 10 lbs of lead. I'm out there slowly building up to speed, following Jeff. After I feel like I have a clue about how far I can push it without spinning off into the mud, I go for a hot lap. But in front of the pit area, Jeff spins in front of me, probably because his previous lap was good so he upped it one more notch to see if he could go faster, but now I got waving yellow flags in front of me. Qualifying is only 7 minutes long, so I hustle to try to get one more hot lap in, or else I'll be at the back of the grid. I get one more lap in as they throw the checkered flag. Hopefully they count that lap and they don't kill timing after 7 minutes regardless of where you are on the track. I get lucky, and Prokart counts my last lap.
It used to be that we would all wait for laps to be posted on a piece of paper at the grid to see the results of qualifying, but now everything is available instantaneously via the SKUSA phone app. Very nice. Jeff sees that after not racing for 5.5 years, and using a kart chassis that is about 7 years old, and using a motor that was probably bought about 10-12 years ago, bottom end rebuilt 6 years ago, he puts it on pole for the S4 Super Masters class out of 15 people! Only thing really done to the kart or motor was new pipe and a new piston the last week. I get lucky with my last lap and qualify 5th with my equipment that has not aged as gracefully as Jeff's kart, since I don't clean or take care of my kart like Jeff does. Results here. Considering I only had a couple of hours of practice all winter prior to this race, I consider my 5th place respectable.
So apparently we aren't dead yet. We can still hang in the class, albeit with the over 45 year old crowd.
Cue the appropriate music: Frank Turner's Get Better
Kart Paparazzi is pumping out "fun" press releases like crazy.

Kart Paparazzi reporting
Heat Race 1 - 10 laps
Track dries a bit. Now we really see where we stack up. Turns out that Crow and PP Mastro are carving out laps a full half second faster than everyone else. Damn. There is a pack of 9 of us hovering around 50.5 plus or minus a tenth of a second, which means 9 of us will be battling for the third spot on the podium, including the defending ProKart California S4 Champ Ken Schilling. Hey, I give credit where credit is due. Everyone is gunning for Schilling, as it should be when you are the defending local champ! I end up taking 6th, Jeff takes 3rd in our first official race in 6 years. Results here.
Heat Race 2 - 10 laps
Crappy driving by me, plus a couple of missed shifts, bumps me down to 8th.
Results here.
The Main - reduced to 15 laps
I've been getting some decent starts. I'm glad I replaced that clutch cable, and got it dialed in when I was at Calspeedway. I need a good start, as I am 8th in class, and 15th on the grid when you count the regular S4 guys that are carrying 10 less lbs. Jeff is gridded in front of me. The three starting lights go on, everyone pulls in their clutch level, revving to 12,000 RPMS, and when the lights go off, the drivers with the best starts will be the drivers who modulate the release of the clutch lever with the left hand perfectly. If you release it too quickly, you will stall the kart and you better get your hand up quick or the drivers behind you will run up your back. Release it too slowly, and you'll be slow off the line. If you get your hand, your foot, and your reaction time time with the starting lights turning off just right, you'll rocket forward and grab 4 or 5 spots going into turn 1......but be careful that you don't get bumped off the track in that important first turn. Lots of mayhem can happen there.
Anyways, I get a decent start, I think I jumped about 4 or 5 people going into turn 1, coming into turn 1, but got bumped around so I dropped a few spots, and ended up in 5th at the end of the race. However, someone said I was penalized one spot for bumping the #707 of Justin Bennett, which I don't think is correct, as Justin came up to me and apologized for bumping into me from behind. I told him no problem, my stupid ass motor missed a shift in the hairpin so I knew a bump was in order. (notice I said stupid ass motor, not stupid ass driver error) The penalty dropped me from 5th to 6th, but I figure it's no biggie. It's not like it was a podium position, and I didn't want to whine about it to the race officials. Plus, I wasn't sure if maybe there was an incident elsewhere on the track where I hit Justin, but after reviewing my camera footage, I don't think I hit him. Jeff had a fueling problem, possibly a pinched fuel line, which cause a DNF in the main for him. Crow, PP Mastro, and Jonathan Allen take the podium positions. Crow and PP Mastro got some magic going, they are running a good 7/10ths a lap faster than the rest of us, so Jeff and I have to figure out what we gotta do to cut down that gap, because that is a big ass gap. I probably need to swap out my motor for my other motor and figure out why it occasionally misses a shift, along with cleaning up my driving.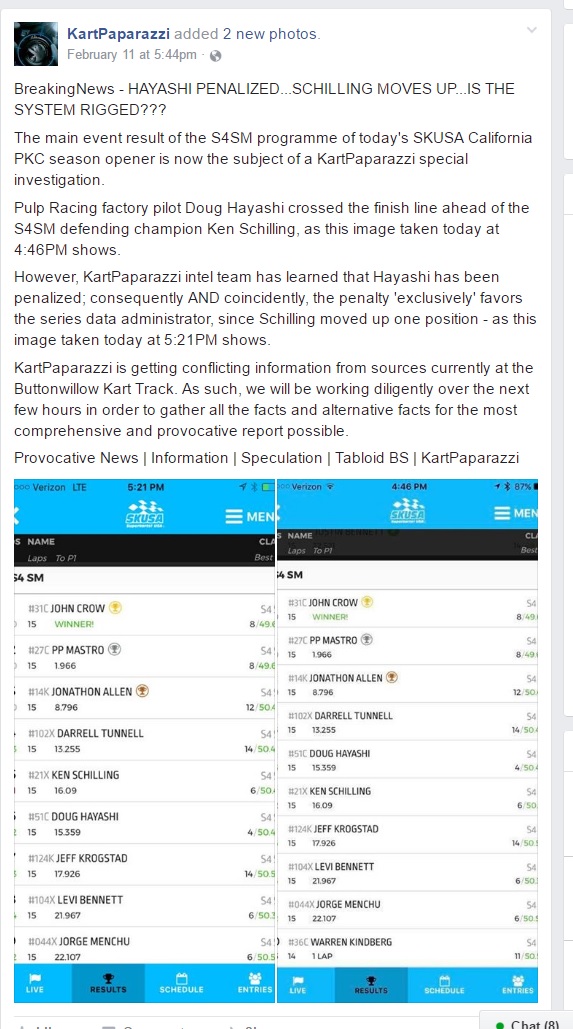 Kart Paparazzi trying to brew up a scandal and cause controversy
SKUSA/ProKart had about 190 drivers at the event, which is a pretty big turnout, especially since a lot of people probably saw the possible rain on Saturday so they bailed out of the race. SKUSA runs a very well organized, very impressive event, just like they have when they first rebooted the karting scene back in 2005 when we attended the first ProKart Challenge race at Moran Raceway.
S4 Super Masters: The Water's Fine
The rest of you S4 Super Masters drivers, where are you? Pull out your old, dusty Stock Honda Shifter kart, and enter in a PKC Race, you'll be in the mix even with your old equipment. I'm talking Whitley, Herr Goebel, Thompson, Russell, McKee, Morrison, Conte, Cox, Diaz, Kidd, Galante, Westmorland, Barcimo, Smith, Vidad, Korn, Abba, Scholta, Krueger, Carlquist, Husain, King, Gianetta, etc. Get off the damn couch and come out to the PKC race. We're not dead yet!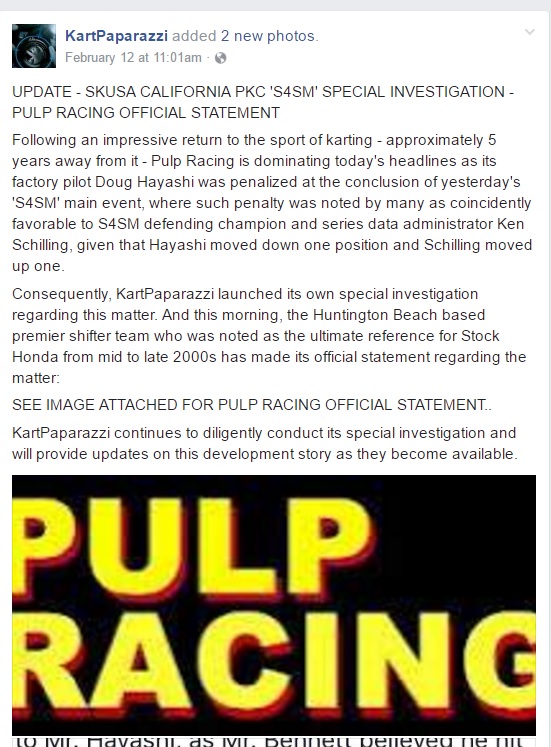 First Pulp Racing Karting Video in 6.5 years!
Here's the Pulp Racing karting video from the event, with Frank Turner and the Sleeping Souls in the background.

Some video from Heat Race 2 and the Main Race
(Click on YouTube button in lower right corner to go full screen)
Same clip, but on Vimeo (in case youtube kills off the above video for music infringement)
Some music videos to check out:
Frank Turner, Four Simple Words: https://www.youtube.com/watch?v=IU22lKGevhI
Frank Turner, Get Better: https://www.youtube.com/watch?v=tB4Avdlz3lk
Frank Turner, Plain Sailing Weather: https://www.youtube.com/watch?v=QZ1yZFHhf7w
Frank Turner on Amazon: https://www.amazon.com/s/ref=nb_sb_noss_2?url=search-alias%3Daps&field-keywords=frank+turner
Other commentary:
1. Freshman Lonzo Ball is going to help carry the UCLA Bruins into the Final Four. He is both the smoothest guy on the court, yet at the same time the quickest guy on the court. He passes like Magic/Bird, using left or right hand, throwing bombs downcourt that bounce perfectly into the stride of a fast breaking teammate. Good defense, can hit the bomb way back, like 33-35 feet if necessary. The Bruins are playing basketball like the Laker Showtime teams of the early 1980's. I never used to watch college basketball, but now I never miss a UCLA game. Who knows, if the Lakers keep blowing games, maybe they can pick Lonzo in the NBA draft and start re-building. It would be nice if he would stick around for a sophomore season at UCLA so he could play with his brother that will be a freshman next year, they could build a dynasty. Youngest brother LaMelo will be at UCLA in another couple of years. LaMelo is the kid who threw in 92 points in a single game a couple of weeks ago. But if Lonzo goes as the 2 or 3 pick in the NBA draft this, that'll be worth about 10 million bucks for a two year rookie contract. You can't pass that up. Lonzo highlights.
UPDATE: Feb 22, 2017, after the above story posted: Did you see what the Lakers just did? Jeanie Buss fired her brother Jim Buss, then put Magic Johnson in charge, fired Kupchak. Magic Johnson then traded away their best player Lou Williams, to Houston for Corey Brewer (pretty much a nobody) and a first round pick. Williams was averaging 18 points a game OFF THE BENCH. But, Houston is going to do well in the playoff, so the first round pick won't be until around the 25th pick or so. Seems ugly, right? But the bigger picture is getting rid of their best player ensure that the Lakers REALLY SUCK the rest of this season, being the worst or second worst team in the NBA, thus giving them the potential to pick number 1 or number 2 in the draft. Magic has been seen watching the UCLA basketball games. Which means.......Magic is tanking the rest of the season, so he can help increase his chances of picking hometown hero Lonzo Ball as the first or second pick in the overall draft.
2. Brexit commentary from 7 months ago, narrated by words from the late, great Joe Strummer who died back in 2002: https://www.youtube.com/watch?v=QonZCgnUmos
Next race is end of March at the Streets of Willow. We got six weeks to Get Better for that race. If you made it to the end of this entire story, congrats, that was a lot of reading!
Back to main NSX-Files/Pulp Racing Stories page